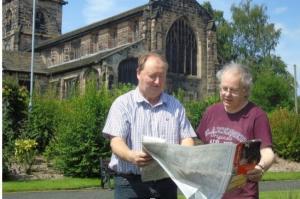 As part of 2020 National Heritage Week, Wilmslow Historical Society is repeating its popular free walking tours of the town centre.
This year the tour not only covers all periods from the Bronze Age, through the Civil War to more modern times but also has a national theme of Hidden Nature.
Alan Cooper, Chairman of Wilmslow Historical Society said "Heritage Open Days are England's celebration of local history and heritage. It's a once-a-year chance to uncover and discover hidden treasures and rarely told stories.
"Come and discover the hidden history of our town.Three armies have marched through, two have flown overhead not to mention the three secret ones. Saxons and Normans all feature, plus a future prime minister who came and a current one who didn't."
Tour leader Town Cllr Jon Kelly said "One of this year's themes is Hidden Nature. Here in Wilmslow, for instance, we have the mystery of the body in the bog. I think people might be really surprised how often the town and its people have featured in national events. The feedback from last year's tours was incredibly positive and I hope we have improved it further."
The tour is an outdoors guided walk starting and finishing in Bank Square, taking about an hour and a half. They will start at 11am on Friday 11th, Saturday 12th, Monday 13th, Tuesday 14th, Wednesday 15th, and Thursday 17th September.
Places are free but numbers are now limited to seven people only and must be booked in advance on the Heritage Open Days website or on 01625 250881. Walkers must also bring a mask.