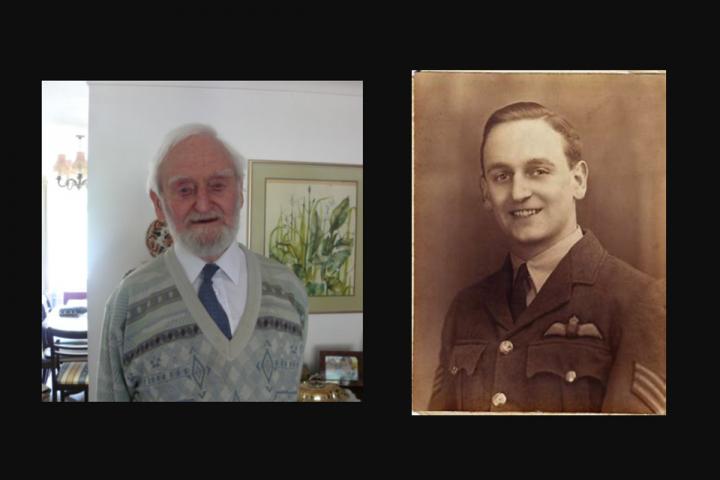 Wilmslow had many heroes in the Second World War. Here, I shall, however, just concentrate on two brave men whom I had the privilege of talking to at length before they sadly passed away.
Wilmslow played a full part in the conflict sending many citizens to serve in the armed forces in all theatres of war. Tragically 48 perished. The Great War had largely been fought by men from the village and surrounding area serving as ordinary "Tommies" in infantry regiments; 1939 - 45 was different. Thirty-four (71%) were NCOs or officers. A third (16) actually fought with the RAF. This is no surprise as since 1938 RAF Wilmslow, known as No.4 School of Recruit Training trained thousands of recruits - receiving, kitting out and undertaking basic training. Typically they arrived one week into their induction and spent 8 weeks here before being posted elsewhere.
One such volunteer was Flight Lieutenant Robert "Bob" L C Lasham DFC and Bar (1921 - 2017). Bob was born in Islington and worked as an electrical engineering apprentice before he joined up in 1942, aged 20. He trained also at Babbacombe and Clewiston, Florida before returning home to get used to foggy British weather and to fly a range of bombers (Blenheims, Wellington and Lancasters) over occupied Europe. All in all he flew 53 operations with 9 and 97 squadrons. He took part in the D-Day landings by attacking a gun battery at St Pierre du Hoc and later an ammunition dump at Alençon. He later flew 12 more sorties before the liberation of Paris, bombing transportation and railway bridges behind enemy lines.
Post war Bob flew with BOAC, BEA and Air Bridge Carriers. He married Joyce Purvis in 1944 and led a long and active retirement here in Wilmslow.
In January 2016, in the presence of George Osborne MP, the then Chancellor of the Exchequer and David Briggs the Lord Lt of Cheshire, he was awarded the Légion d'Honneur by the French Ambassador Sylvie Bermann.
Another brave veteran of the Normandy landings was Thomas "Tommy" Potts (1922 - 2018). Born in Wilmslow to a farming family he trained as a draughtsman for a firm of shopfitters in Manchester. He joined the Home Guard before going into the Royal Navy and after training at Collingwood he served on motor torpedo boats as part of SSRF (The Small Scale Raiding Force) designed to undertake "pinprick" raids on the Channel Islands and Northern France. Serving under Captain "Freddie" Bourne DSC, he was a wireless operator with 6 other crew on MTB 344. The "Spitfires of the Seas" were designed to travel clandestinely at high speed and disrupt enemy resources, make incursions on coasts and take prisoners for interrogation.
Built by Thorneycrofts, Tommy's boat was difficult to detect by radar by travelling low in the water. "This did not make for a smooth ride" and he was often very sick crossing the Channel. Before D-Day they stripped out the torpedoes to carry groups of commandos to Normandy. Leaving at dusk, as they approached the coast they switched off the main engines and drifted ashore leaving small teams to reconnoitre beaches and defences in detail. They were picked up 2 days later. There were only a handful of losses in over a dozen trips. Tommy was also in the first wave on 6 June and stayed in France for 3 weeks. Additionally his team undertook similar trips to the Channel Islands destroying German observation points like Casquets Lighthouse on Alderney.
Tommy married his wife Jean in 1959. Post war he worked for Healds Dairy for 34 years and he was invited to Plouzec in Normandy in 1992, on the 50th anniversary of Operation Fahrenheit, to honour his achievement.
As the French Ambassador said in 2016 when she presented the medal to Bob and 2 others "Gentlemen, we owe our freedom and security largely to your dedication because you were ready to risk your lives to ensure a better and brighter world."
This clearly applies not just to Bob and Tommy but to numerous others from Wilmslow who served with such distinction.
Photos: Flight Lieutenant Robert "Bob" L C Lasham.
Alan Cooper
Wilmslow Historical Society
with contributions from Alan and Joan Potts