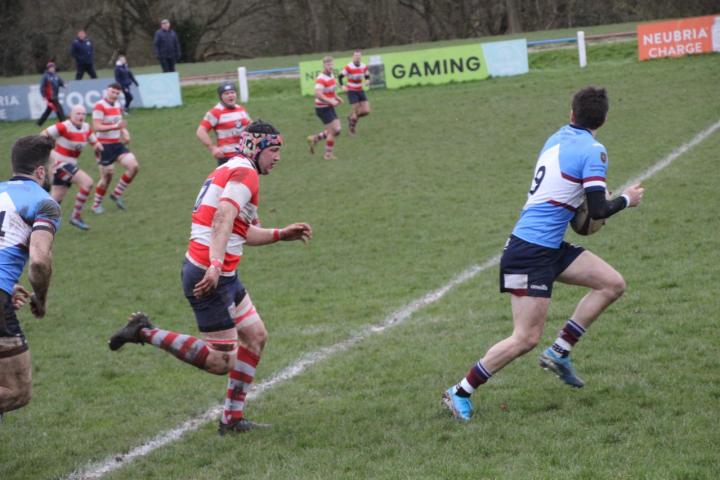 Saturday 14th. March 2020
North 1 West
Wilmslow 7 – 6 Vale of Lune
A wet afternoon laden with ever increasing rainy squalls, a muddy churned up pitch and greasy ball, accompanied by a pernickety referee were all on hand to greet the players of Wilmslow and Vale of Lune.
Matches between these old protagonists are normally free flowing affairs with one side trying to outdo the other by playing open attacking rugby but on this occasion, it just wasn't possible. Neither side was able to produce much co-ordinated rugby and the game eventually sunk into not much more than an old fashioned bogged down arm wrestle, adjudicated by the stern unsmiling referee, Mr Henry, who appeared to have little empathy with the players. He, of course, will say that his role is to referee the game according to the laws and so it is but at this level the players are all amateur and the quality of their rugby experience can only be enhanced if the appointed official can find ways of taking account of the conditions and to be more lenient in making decisions within the spirit of the game. Some find that easier to do than others.
Of the two sides, Vale were probably the one, a bit better equipped to deal with the ground and climatic conditions and therein lies Wilmslow's current difficulties.
On firm grounds in bright conditions, it's just easier to spin the ball away quickly from the breakdown and heavy traffic and they have the backs to create and score some spectacular tries by quickly moving the ball wide. But when in wintery conditions their forwards are not providing them with quick ball from whatever source, it becomes much more difficult for their backs to do their stuff. For the first fifteen minutes or so of this game, it was almost like spring and Ms. Street, Harding, Jennings et al were looking particularly dangerous but that all changed when the rain came.
Against Vale, the first phase ball from the scrum was often slow. It struggled all afternoon to get off the retreat and in open play, the forwards only rarely crossed the gain line. When you get stopped in your tracks, it results in slow static possession. You don't get that quick dynamic phase two or three possession, which can release your back line. This season, Wilmslow simply have not had sufficient ball carriers in their front five to set up go forward quick possession. They were able to get away with this in the balmy days of autumn but have struggled in the wet wintery conditions of the last three months. Coach Chris Jones knows this, of course, and it must be to his credit that to compensate, he has made the Wolves defence very difficult to break down.
Vale, for their part, can only blame themselves for butchering at least a couple of good try scoring opportunities and for kicking away good possession far too often into the hands of the Wilmslow back three. Ben Day, especially, but Coulthurst and Kingdon also, will always be a threat in those circumstances. Somehow, Vale just let themselves down by some strange decision making. A typical example was the decision to go for goal from close to halfway late in the second half when you felt a kick to the corner would have produced better dividends. In the conditions, even a world class kicker would have found that one difficult and so it proved.
Wilmslow's try was scored by Sean Street after ten minutes. The rain hadn't arrived at that stage as the Wolves ran out of defence and winger James Coulthurst stayed on his feet long enough to give an inside pass to scrum half Street, who went clear. Both sides then missed good opportunities before Vale knocked over a penalty after a period of pressure on twenty three minutes. As conditions worsened, they then dominated for the rest of the half without adding to their score.
If the penalty count was more or less even in the first half, then it most certainly wasn't in the second half as referee Henry found reason to penalise the Wolves more than twice as often as Vale. Vale were again the dominant side but couldn't find a way of breaking the Wolves defensive line. Midway through the half, frustrated by fifteen minutes of determined Wilmslow defence they opted for a second three points from a penalty. Thereafter, both sides had their moments, trying to scramble through the mud, but neither could add to their score, so it remained 7 – 6 for Wilmslow.
The result kept Wilmslow in the top six, who are now all spread out in a bunch with only five points between them. Nobody would have predicted that Broughton Park would go to Burnage to wreck such injury on their title chances as they did and nor would many have fancied Bowdon against Firwood Waterloo. Wilmslow have a game in hand on the others and are still to play three of the other contenders, including Waterloo next week, so there is still everything to play for, current circumstances permitting.
No stopping Sean Street as he races away to score.
Match report by David Pike.
Tags: