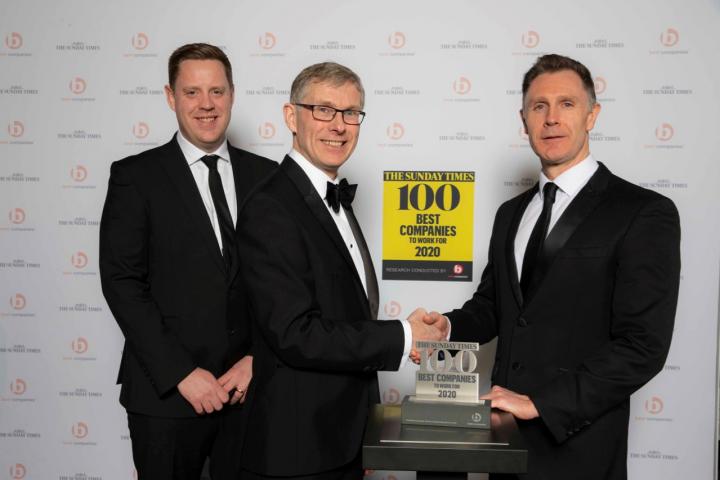 Promotional Feature
Alderley Edge technology business Chess has officially done it again, achieving 6th in the Sunday Times '100 Best Companies to Work For'. This continues the success of previous years - number 1 in 2018, 5 years in the top 6 and 11 years in the top 100.
The prestigious awards ceremony took place in London on Thursday 20 February. Chief Executive Officer, Mark Lightfoot collected the award following another successful year as one of the UK's leading technology solutions providers. He commented:
"This week we entered our second decade in the top 100, a remarkable achievement. Since 1993 many have contributed to the Chess growth journey. Through hard work, determination, energy, attitude, belief and passion we have built a business that we can all be truly proud of, making us a great place to work, something which is easy to say but harder to deliver.
It is an absolute honour to work for a business where our Cultural Ambassadors ensure the tangible Chess culture relentlessly drives performance, and our strategy across all offices and teams. Long may it continue!"
Miriam Bradley, Culture and People Director, added:
"Best Companies methodology is widely recognised as the most academically rigorous measure in present workplace engagement, which makes our achievement even more meaningful.
Chess People benefit from health and pension plans, a share-option scheme, flexible working hours, complemented by some more unusual benefits such as massages, breakfast clubs, the Harvest Festival rule, mental health first aid, flu jabs, sponsorships for qualifications and happiness training conducted by Executive Chairman David Pollock.
Congratulations go to each one of our 480 People, they are the architects of Chess culture; their energy, creativity and commitment are what makes Chess such a special place to work. As a tech business we are constantly responding to technological advances, and with this comes an incredible amount of pressure. Our people continue to push the boundaries to achieve their personal growth and the success of the business."
About Chess
Chess is one of the UK's leading independent and trusted technology service providers, employing 480 skilled people across 6 UK sites, supporting a wide range of organisations.
By leveraging world-class technology, Chess helps you to connect your people, protect your data, grow your business, reduce your costs and work better together, which means your business, your people and your customers can thrive.
Tags: