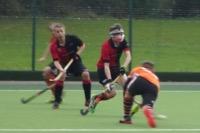 Bowdon Mens 2nd 1 Wilmslow Mens 1st 1
This was a classic encounter of the two top teams in the division locking horns. Bowdon had won every game this season so had the bragging rights but Wilmslow have been stringing together some gritty performances with their younger players maturing by each game.
Wilmslow reversed a dangerous trend of starting games slowly in recent weeks and started with their foot on the gas, forcing an early short corner which they couldn't convert.
Wilmslow's pressing was causing Bowdon problems with playing out from defence and the men in orange took the lead when they won the ball high up the pitch and Tom Davenport and Jack Wright combined well to feed Joe Booth at the top of the circle. Booth strode past his marker and slammed a low reverse strike across the keeper and into the bottom corner to give Wilmslow the lead.
Bowdon however were level within five minutes as some lax marking from the Wilmslow defence allowed the league's top scorer Dave Egerton a simple tap in at the back post.
Wilmslow then withstood some pressure until the end of the first half, although 3 quickfire green cards did put the men in orange on the back foot having to field 8 men for a short period.
The 8 players withheld a flow of Bowdon attacks and with Wilmslow back up to a full complement they began to assert themselves on the game once more.
Both teams traded a flurry of short corners in the second half but neither team could break the deadlock in a tight second half. A 1-1 draw was a fair result and places both teams well for promotion with four weekends of the season left.
Wilmslow Mens 2s were also up against it with a Bramhall 1st team determined to make it 2 wins against their local rivals. At half time Bramhall were leading 2-1 but in the second half, urged on by a voluble home crowd in the new Jim Barrow Stand the men in orange scored twice to win 3-2.
Mens 3s narrowly lost 1-2 to high-flying Bowdon 4s and the Mens 4s drew 0-0 with Sandbach 2s. Mens 5s lost 1-5 to Bramhall 3s.
Wilmslow Ladies 1st 0 Bowdon Ladies 2nd 4
The ladies 1st XI played host to a young, strong Bowdon team. Wilmslow started the better side and dominated the opening 10 minutes but couldn't find the opener. Bowdon scored a scrappy first after a fabulous double save by keeper Lang. This lifted the away side and they began to gain a foothold in the match. They grabbed another before the break; 2-0 heading into half time.
The second half was a more even game but Wilmslow we're struggling to convert despite having numerous opportunities. Becca Healey, Hannah Coulson and Katrin Haraldsdottir were all unlucky not to see themselves on the score sheet.
Bowdon ran out winners with the score line finishing 4-0. An improved performance from the home side who still sit comfortably mid table during their opening season in this league.
Wilmslow Ladies 2s played out a dour 0-0 draw against Golborne 1st team and Ladies 3s lost 1-5 to Knutsford 1st team.
Better results came from lower down where 4s were back to winning ways beating Runcorn 2s 4-1 and the ladies 5s beat local rivals Alderley 2-0.
Match report by Steve Kinsella.
Tags: