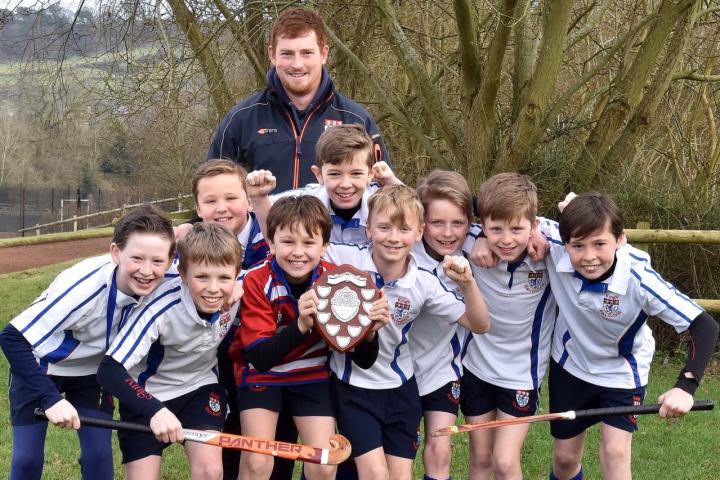 Promotional Feature
An outstanding performance at the AJIS Hockey tournament saw King's U11 boys' team lifting the trophy for the first time.
The Association of Junior Independent School's (AJIS) North West Hockey competition is a prestigious 12-team tournament, with the final held at Manchester Grammar School.
The day started slowly with a defeat against last year's winners, Kirkham Grammar. King's were undaunted and went on to win their next six matches to land the title.
Goals from Joe Moores, Archie Hood and Leo Burns in the group stages saw the team victorious against The Grange, Westholme, Cheadle Hulme and AKS to set up a semi-final encounter against a strong King's Chester side who were unbeaten in the tournament. In a tense game, the King's defence was outstanding with Alex Creswell and Seth Oliver-Williams making last-ditch tackles and Zach Al-Ausi pulling off a string of outstanding saves in goals. The match went to a 'golden-goal' with Walter Lowe finally breaking the deadlock when he slid the ball past the advancing keeper.
The final was a rematch against Kirkham. King's dominated the early stages with some outstanding midfield play from Dylan Parks-Symborkski, Walter Travis, Leo Burns and Joe Moores. It was Walter Lowe, who was again on hand to put the team in front with a calmly taken finish after some excellent approach play. King's searched for a second goal to settle the nerves but as the game progressed, Kirkham pushed for the equaliser. The King's boys stood strong in defence and again, some excellent saves from Zach saw the team come out as winners.
Coach Andrew Jackson said: "It was an outstanding performance from all the boys and I am delighted that they have won the AJIS trophy for the first time. Although our primary winter sports are football and rugby, we introduce the boys to hockey in Year 6 and they love the opportunity to try something new. As you might expect, they play with immense enthusiasm, and enjoy showcasing their skills and team-working camaraderie in a series of competitive tournaments."
Tags: