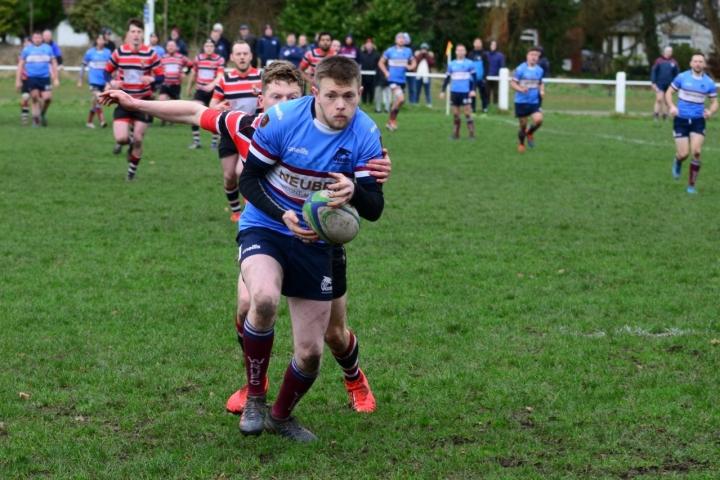 Saturday 1st. February 2020
North 1 West
Altrincham Kersal 37 – 24 Wilmslow
The Wolves crashed to their third successive defeat of the year, resembling in name only the side that just six weeks ago was threatening to carry all before it. The team hadn't played for three weeks, some of the players for longer than that and in the meantime the edge to their game has just disappeared.
There were fragments of enterprising play from their backs but starved of possession, in the second half particularly, what few chances they were able to create were squandered by inaccurate passing and poor ball retention. The Wolves' real problem though was up front where their pack, once again recast because of injuries, seemed to run out of steam, the longer the game went on. They just looked to have lost the edge to their fitness since their last win against Keswick in mid December.
In contrast Altrincham Kersal have developed into a far better side than the one which started the season. They mightn't be the most exciting team in the league to watch but they've tightened up across the field. Their pack ended up the better of the two on display. Steady reliable scrummaging, an organised lineout and solid driving as a forward unit proved effective on the day in wearing down their opponents.
Three of their six tries came from their forwards, No. 8 Andrew Dauncey, flanker John Waffle and hooker Paul Mallaband. The growing dominance of the AK pack then opened the way for stand off Steven Daldry and his two wingers Ryan Barratt and John Colson to all touch down in the second half from close in play. Their defence too gave little away. They looked as though they knew their limitations and how they wanted to play.
AK opened the scoring after just four minutes when they set up a lineout close to the Wolves line from a penalty and when they recycled the ball, they held off some indecisive Wilmslow tackling to score.
Wilmslow then had the better of most of the first half in terms of possession and territory and a steady penalty count in their favour but their play was still ragged, chances were missed and after twenty minutes MacCallum decided to take three points from a thirty five metre penalty instead of trying to set up another close in lineout for a pack that was clearly misfiring. AK responded immediately with a well placed kick to the corner and when Wilmslow duly lost the ball on their throw, they scavenged the loose ball and after several drives touched down for their second score.
Wilmslow then had something of a purple patch on the half hour when first James Coulthurst made a scything break from full back and then from a scrum on the AK line MacCallum fed Day, playing in the centre for a powerful run to score. This was followed by No. 8 Danny Kennedy surging through from midfield to score the Wolves second try for a brief 12 – 17 lead. They then failed to clear their lines from the restart, got penalised and from the resultant penalty lineout AK drove over again to restore their lead at half time.
There was still everything to play for but AK grabbed the initiative, preventing the Wolves from having much sight of the ball, forcing them into penalties and most importantly taking their chances. All three of their second half scores came from their backs, the first two from go forward possession their pack was winning for them and their final try from a length of the field run against a tiring defence.
The Wolves were forced into chasing the game but much as though Street, Harding, Coulthurst and Kennedy caught the eye, it never looked like their day. Eventually a late try came from flanker Matthew Norfolk-Clarke but even then AK plundered a final three points from a penalty as they ran the clock down.
Quite where coach Chris Jones and his coaching team go from here is an open question. The Wolves are on the slide. So many of their players have lost form and fitness and are carrying niggling injuries and the newcomers have still to show that they can be a force at this level. It's going to be a challenging few weeks.
Photo: Sam Beckett is held up as he goes for the line
Match report by David Pike.
Tags: