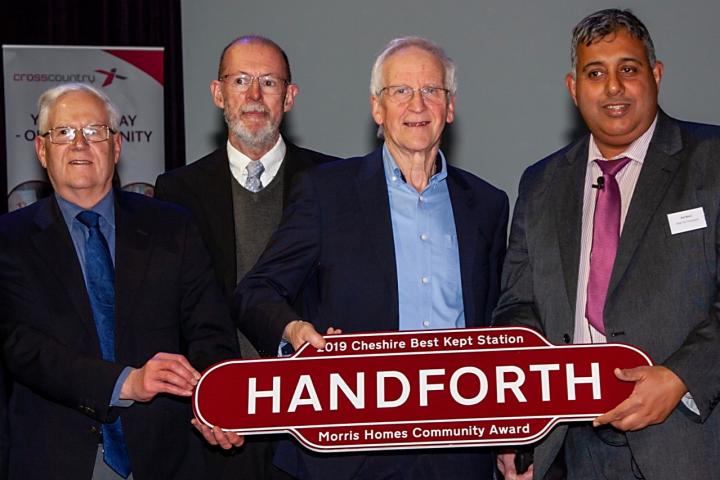 Handforth station has scooped an award at the 17th Cheshire Best Kept Stations Awards Evening held on Tuesday 28th January.
Handforth were presented the Morris Homes Community Award before 170 guests at The Grange Theatre in Hartford by Mr Kulvinder Bassi, Community Rail Team Leader from the Department of Transport.
Andrew Backhouse, chair of The Friends of Handforth Station, said "The Friends of Handforth Station are delighted with their award but as ever, thanks are largely due to the whole community of people who have supported us in our successful Access for All bid.
"It's the teamwork that counts!"
The Evening was attended by Mr David Briggs, Her Majesty's Lord-Lieutenant of Cheshire and twelve mayors from boroughs, town and parishes across Cheshire including the Mayor of Cheshire East, Cllr Barry Burkhill.
On presenting the awards, Mr Kulvinder Bassi said: "It has been a real privilege for me to present these awards which recognises the outstanding volunteer efforts of so many.
"Through their selfless efforts they have helped transform Cheshire's railway stations, making them such welcoming gateways across the county.
"My thanks go to you all"
On announcing the Awards, Mark Barker, chair of Cheshire Best Kept Stations said "Tonight's Awards Evening is a celebration and a thank you for all the volunteers and community groups who do so much to brighten up our stations in Cheshire.
"You are all winners! - whether or not you pick up an award tonight, this is a big thank you to you all; a party for volunteers and for those who support & encourage you; rail industry, civic leaders and local authorities.
"You deserve it.
"We can celebrate something to be truly proud of at so many of our Cheshire stations. We have seen some truly excellent work from volunteers and staff at stations right across Cheshire."
Additionally, Alderley Edge station was highly commended for the most improved station.
Mr Briggs concluded the evening by praising the station volunteers across Cheshire who dedicate considerable time to the county and were an inspiration to all.