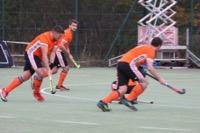 Wilmslow Men 1st 2 Sheffield University Bankers 1st 1
Top of the table Wilmslow welcomed Sheffield Bankers to Oakwood Farm on Saturday. The men in orange didn't start with their usual flow and gusto and Sheffield managed to take an early lead with a break-away goal.
Within 10 minutes, following a period of growing pressure on the Sheffield goal, Wilmslow were deservedly level. Martin Wright won a penalty stroke from a short corner, and Pete Hallinan put his recent poor penalty record behind him to send the keeper the wrong way and level the score. Wilmslow kept the pressure up but Sheffield managed to maintain parity and head into half-time at 1-1.
In the second half, Wilmslow upped the ante and had more joy going forwards and won the ball high up the pitch on numerous occasions. Eventually Wilmslow made the pressure count as Joe Booth powered an excellent reverse stick strike into the bottom right corner of the Sheffield goal to take Wilmslow into the lead. Wilmslow managed to hang on for the final 15 minutes to maintain their 7 game winning streak and their position at the top of North Division One.
Mens 2nd team went down heavily to newly revamped Clitheroe & Blackburn 1sts 4-10.
The 3rds beat Bebington 2nds 2-0 at home. Their second successive win sees them climb away from the relegation places. The 4ths lost 1-3 at home to Triton 3rds but better news from the 5ths who finally found a way to put the ball in the net. They beat Timperley 7s 4-1 away to record their first win with two goals each from makeshift striker Danny Cork and midfielder Tom Winterbourne.
Wilmslow Ladies 1st 1 Morpeth Ladies 1st 0
Wilmslow had the better of the play but sadly missed their unavailable twin strikers Botha and Rachubka A grim midfield battle ensued with Danni Cooper breaking the stalemate with a well taken goal. Towards the end spectators nerves were shredded as the Northumbrians fought hard for the equaliser but the tangerine defence held fast with Cat Lang imperious as ever in goal.
A second successive win sees Wilmslow slowly climbing up the North Div 1 league table.
Match report by Steve Kinsella.
Tags: