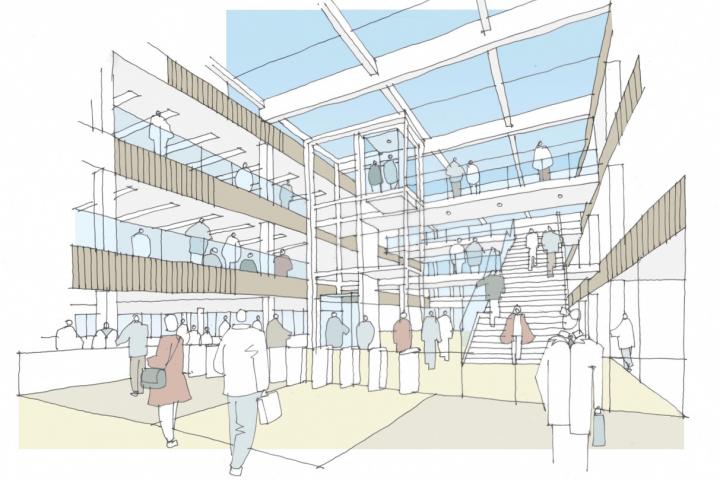 Royal London says it remains committed to delivering its vision for a 'living campus', following its move from Wilmslow to Alderley Park in 2020.
Royal London Asset Management has prepared an outline planning application for the development of new office space on land to the east of the current campus. The planning consent granted in 2016 for new office space permits development of 17,000 sq m of new office accommodation with 1,100 car parking spaces.
The new planning application seeks a renewal of the current consent but with smaller buildings capable of offering more flexible accommodation, designed to appeal to companies of varying sizes. Vehicle access to and from the new buildings will continue to be via the existing entrance and exit junctions on Alderley Road.
The application has been submitted to Cheshire East Council today (Monday, 15th July), but no construction work is expected to commence until after Royal London has moved to Alderley Park.
Royal London were granted planning permission in 2016 for a new office development at their Alderley Road campus. However, in October 2017 - having considered a range of options for the future - the company announced it would be moving out of Wilmslow, from their current site at Alderley Road to Alderley Park.
In November 2017, Royal London submitted two planning applications for homes at its site on Alderley Road.
The first application is for up to 60 homes on land opposite the Royal London Campus, to the west of Alderley Road and the second application is for 120 homes, along with the access roads and landscaping, on the northern part of Royal London campus.
Both applications were approved by the Strategic Planning Board in March 2018 subject to the completion of a Section 106 Agreement.
The new Royal London planning application has not been added to the Cheshire East Planning portal yet, we will publish the planning reference once it has been made available.
Tags: