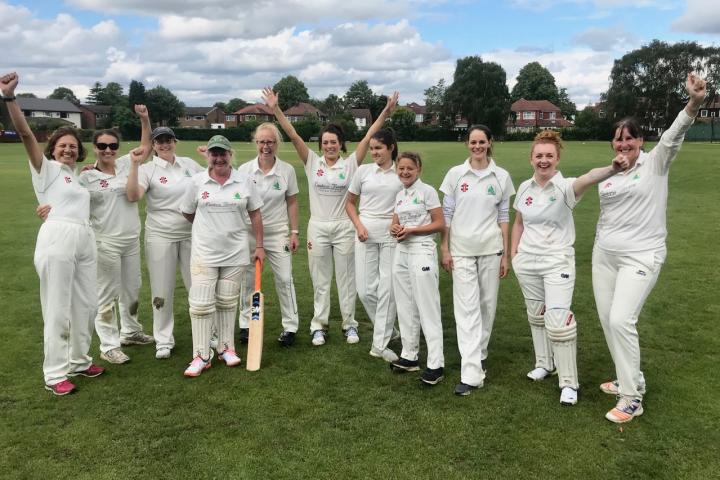 Sunday was an historic and proud day for Lindow Cricket Club as the Lindow Ladies team played their first ever league match.
Cheadle Heaton Mersey batted first and made a strong start, scoring 29 before the first wicket fell. Lindow needed something special to break the partnership and it came from some exceptional fielding from Claire Ashworth, running out the opening batter.
The introduction of Michelle Hesslegrave proved a key moment for Lindow as her 3-16 left the hosts 37-4. As they reached 70-4 it was another sharp piece of fielding, this time from Grace Linnell, that gave Lindow the break through they needed.
A special moment followed as Ellie Arkelaos took her first senior wicket with a clean bowled. An excellent sign for the club that Ellie and Izzy Wilde have developed their skills in the Lindow girls team and are now playing senior cricket.
The Lindow fielding was excellent throughout, with special mentions in particular for Mair Bull and Tina McGarrie, backed up by tight bowling at the end from Ashlee Barnes, Claire Ashworth and Grace Linnell, who finished the innings with a wicket maiden! Lindow needed to score 108 in 20 overs if they were to secure the win.
The Lindow response was led by captain Alison Hodge and all-rounder Jo Seddon. There were a few nervous faces in the Lindow camp when Jo was caught and bowled for 3 and the score 9-1. There was, however, no need to panic.
A very impressive 56 run partnership between Alison and Caroline James gave Lindow the platform they needed. When Caroline was bowled for 27, Alison was joined by Michelle who hit her first ball for 4 and didn't look back.
The pair put on a quick-fire 43, including a massive six from Michelle, to give Lindow Ladies an 8 wicket win, with skipper Hodge finishing unbeaten on 30.
A special way to launch league cricket for Lindow Ladies and richly deserved for all the hard work the ladies and the coaches have put in over the last six months. Most of the team had never played before, yet with plenty of enthusiasm and some excellent coaching they are developing into a very good team. New members are always welcome to join, training is on Wednesday evenings 6-730pm at Lindow's Upcast Lane ground.
Guest post by Adam Bull.