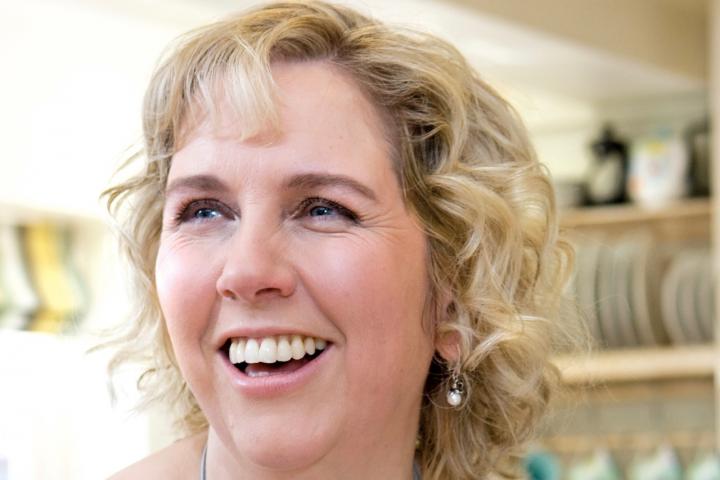 In the run up to the local elections on May 2nd I will be publishing brief interviews with each of the candidates - standing for seats on both the Town Council and Cheshire East Council - that respond to my request, in the order in which they respond.
This is the first interview to be published. To read subsequent interviews with other candidates you will be able to click on the tags at the bottom of the article. For example, pieces on the other candidates for the Wilmslow Town Council election will all be tagged 'Wilmslow Town Council 2019 Election'. Candidates representing the same party or group will also be connected via the tags, candidates competing in the same ward will be connected by tags as well and all articles will be tagged '2019 Local Elections'.
Angela McPake is a Conservative party candidate for the Wilmslow West ward on Wilmslow Town Council.
Angela has lived in Wilmslow all her life, her grandma ran a bakery and her dad ran a butchers on Chapel Lane.
Until 2017, she was a Sales Director for a Global PLC which she loved but following a takeover she volunteered for redundancy having worked for them for 20 years and saw it as a chance to do something different.
Angela told me "I now work locally which allows me to spend more time with my youngest son, who is 7, and to help run the family Christmas Tree Farm business as my parents are now in their 70's.
"I am married with two sons and two stepsons - the oldest three are at an age, where admitting how old they are definitely ages me. They are all at university or working.
"My husband is a musician and I have a background in theatre so we spend a lot of time attending concerts and theatre - both amateur and professional. The boys are all either into sport or music so we also spend time variously on a touchline or in an audience!"
Angela, who has been a town councillor since the election in 2015, is the former Chair of Alderley and Wilmslow Musical Theatre company and still a member. For the past couple of years, she has chaired the Wilmslow Community Show and is a member of both the Evans Arts Trust and the Wilmslow Civic Trust, as well as representing the Council in several other organisations.
Why have you decided to stand for re-election as a parish councillor for Wilmslow West?
"I enjoy being a town councillor. I like the fact we can focus exclusively on what is best for the town. Although quite a lot does not sit within our remit at Town Council level, there are things that we can do that do make a difference to the town and its residents."
What do you think have been your biggest achievements as a councillor in the past 4 years?
"As a councillor, it is probably wrong to claim you achieve anything in isolation as you are clearly part of the team. But I am happy to claim a part in the work that went into ensuring we got a reopened cinema in the Town. I led the council's response to that and dealt with everyone from the Landlord, potential tenants, the Rex Revival Group and the new operators in a attempt to ensure we got a cinema back.
"I am pleased we have finally achieved the new toilet block in the Carrs and as the Chair of the committee who delivered it, I was involved in both the execution and the selection of and negotiation with the kiosk operator. It has made a real difference to park users and is actually out-performing expectations financially (if you can say that about a toilet!)
"I have also pleased with the on-going evolution of the Cinema on the Carrs and the Xmas lights switch on (and I can report Father Christmas is a nightmare to keep track of) which I believe both enhance the team. The events working team is also within my role as a councillor."
What have been your biggest disappointments as a councillor in the past 4 years?
"Sometimes the wheels of local government turn slowly and it can take time to achieve things, which is hard to understand if you have a commercial background. There are a number of things that are in progress that I would have liked to have seen out within this term.
"There are some planning issues that I am disappointed we haven't been able to influence, where I felt there were valid grounds for rejection. Generally, you always want to achieve more; if you don't have a list of other things you still want to do then you probably shouldn't carry on!"
What do you consider to be the important issues facing Wilmslow?
"Looking at matters the Town Council can influence, even if the solution isn't within our gift, clearly parking is a major issue; particularly on residential roads but also in the town centre
"We also need to focus on the town centre. The Rex being back is a great step in the right direction and we are starting to see units fill up around it. Town centres generally are evolving and becoming more about destination shopping and leisure and I am keen we do things to promote that.
"Infrastructure generally is also a concern. New houses will obviously put pressure on roads, schools, doctors etc and that will impact on existing residents. Whilst we can't make those things happen, we can certainly ensure we keep up the pressure to ensure they are considered.
"I think we also have to look seriously at the sports fields around the town; it can't be right that we lose more games to waterlogged pitches in Wilmslow than in virtually any other town in the county."
What do you hope to achieve and how in the next 4 years?
"I am keen we continue to help improve the town centre and then we can start to promote it more as a place to visit; both for residents as the obvious choice for an evening out/shop and to visitors as a great place to come. There is lots already happening in the wider town- whether local interest groups, comedy nights, theatre or music events but we need to do a better co-ordinated job at publicizing that level of activity.
"We need to continue to take an active role in the outcome of the parking consulation in terms of ensuring actions promised are undertaken and in trying to make sure residents get what they have asked for on their area. That problem is unlikely to resolve itself and therefore we need to have a solution for now and one that will work for the longer term. The Town Council has a role to play in that.
"The Neighbourhood Plan gives some clear steers on what is important to residents and there are some clear things in there we need to aim to deliver over the next 4 years- whether that is improved access to the Bollin Valley, better paths (for walking and cycling) connecting neighbourhoods to the town centre, finding ways to encourage artisan producers or improving digital connectivity in the town.
"I am also keen that we take an active role to trying to get the Jim Evison fields improved and look again at whether we are missing things in our town to support young people."
What experience and personal qualities will you bring to the role?
"I bring a reasonable degree of commercial experience to the role, which has proved invaluable so far. I like to believe I am approachable and certainly, no one seems to have a problem talking to me when they see me around- whether in Sainsburys, the Carrs or the doctors surgery!
"The fact I have been here a long time and that I now work in the town means I tend to have some understanding of most of the issues that affect residents and often, when it isn't specifically council related will know where to point someone."
Why should Wilmslow residents vote for you?
"Because I have a proven track record of supporting residents. I will continue to do what I believe is right to enhance the town, as that is my only priority. I live and work within the ward I represent so I am hopeful that helps me understand the issues that matter to the residents who will be electing me - I hope!"