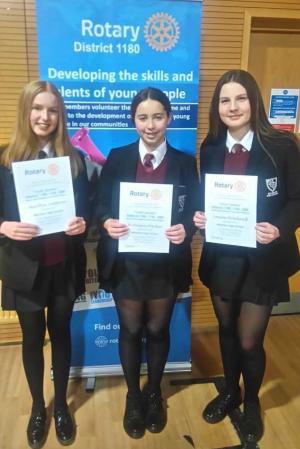 Following their success at the District Final of the Rotary Club's Youth Speaks competition, both the Intermediate and Senior teams from Wilmslow High School took part in the Regional Final last weekend, held at Glyndwr University in Wrexham.
The Senior team, consisting of Bronwyn Parker (Chairperson), Martha Simpson (Speaker) and Louisa Rowland (Proposer of the Vote of Thanks) won their competition with an outstanding team performance and will now progress to the National Final held in Nottingham in May.
Director of English David Spence said: "To reach the National Final is a wonderful achievement and I am very proud of all the hard work that the team has put in to get to this stage."
The Intermediate team of Owen Branthwaite, Carmen Aitken and Abi Beton, narrowly missed out on getting through against very strong competition, but still came away with the accolade of best individual speaker which was awarded to Carmen for her brilliant speech on the pressures facing young people in modern society.
Ian Bradley, from Wilmslow Dean Rotary who have sponsored both teams, said: "It has been great to see the Senior team develop over the rounds so far. This has both been in terms of their confidence and also their teamwork – which is an important element of the competition as it is a team event. I know I am biased but they thoroughly deserved to win the Regional Final and we look forward to them representing us (the school, town and region) in the National Final in May. It was also good to see the intermediate team at the Regional Final and hopefully they and others will be able to build on that in future years. Speaking and presenting is still a very important skill for life even though we do more and more electronically and digitally."
Tags: