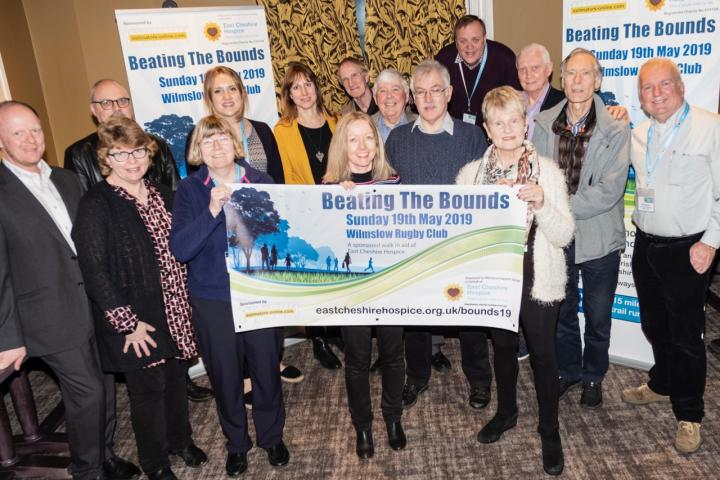 After two months of preparation, Beating the Bounds 2019 was officially launched on Thursday, 28th February.
Now in its' third year, Beating the Bounds is a sponsored walk around the Wilmslow Parish Boundary with proceeds going to East Cheshire Hospice. This year's event will take place on Sunday May 19th.
Ned Spencer of the local ECH Support Group said "In 2017 70 people took part in our first BtB event. This grew to 140 in 2018 and we are expecting over 200 in 2019. As well as raising much needed funds for our local hospice, BtB is a fun day out bringing together various sections of the local community"
The Beating the Bounds route follows the Wilmslow Parish Boundary and is approximately 15 miles long with shorter options are available. The boundary walk follows an old English tradition that took place in each parish, organised by the parish church and taking place near Ascension Day.
Ned Spencer commented: "We are very lucky living in Wilmslow that we have such beautiful countryside on our doorstep. Our BtB route takes in an historic mill, a dramatic walk through woods, a fishing lake, a golf course, the famous Lindow Peat Bog, Cheshire farmland and the scenic River Bollin valley."
Ned added "We are looking to raise as much money as we can for the hospice and have a good day out at the same time. Last year the event raised £9,000 for ECH and our target this year is £15,000. To put this in to perspective, £15,000 is only enough to keep the hospice running for two days!"
There are three ways you can take part in the event - a 15 mile trail run, the 15 mile boundary walk and an 8 mile walk. Further information and registration are on the East Cheshire Hospice website.
If you have any questions you can email Ned Spencer.