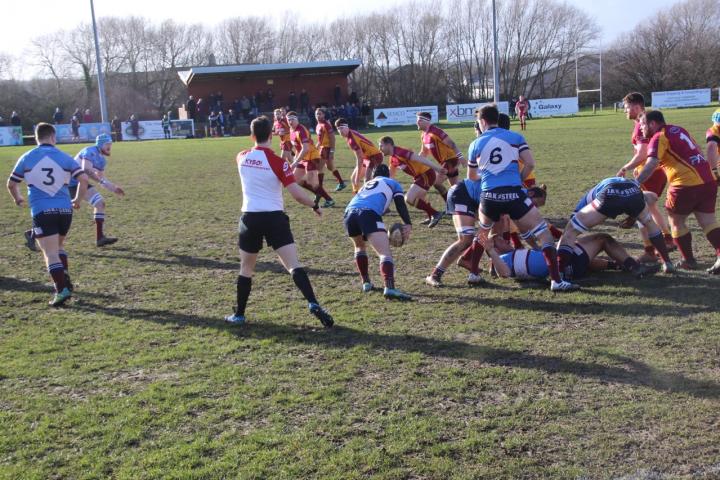 Saturday 9th. February 2019
Northern Premier League
Sandal 43 – 12 Wilmslow
For thirty minutes or so, we dared to believe that this match would be a contest right up to the final whistle. A Wolves side, missing their captain Bob MacCallum and regular scrum half Sean Street, started with one of their best spells of the season. Their replacements Elliot Rowe at No. 10 and Conor McMurdock at No. 9, both stepped encouragingly up to the plate, during this early period.
Nor, despite a first minute of the game charge down of a clearance kick, did they concede a score in the opening plays. That alone was a welcome change from recent outings. Instead they took the game to their opponents with some steady patient play. Ollie Lee, Harry O'Loughlin and Adam Hewitt all nicked lineouts against the throw. Winger Sam Beckett scored after just ten minutes and McMurdock touched down on the half hour. At that stage the Wolves were well worth their 12 – 5 advantage. And this was all against a prevailing wintery north easterly wind.
Beckett's try was the culmination of Sandal being forced to kick hastily out of defence to give the Wolves an attacking lineout on the twenty two. Good driving play by the pack took the ball to the Sandal line, where it was moved to Rowe whose break took him to just inches of the line. No matter the ball was recycled for McMurdock to change the direction of the attack, creating the space for Beckett to score. The lead though was short lived as Wilmslow were soon forced to clear from their own twenty two with a kick which was comfortably fielded by Sandal's No. 15 with plenty of space to counter attack and when the ball was recycled a badly missed tackle on the Wilmslow right allowed their left winger to tie things up with a try in the corner. Rowe then led the chase after his own restart, forcing a Sandal handling error and a good spell for the Wolves, forwards and backs alike, which led to McMurdock touching down in the right hand corner. The referee didn't like something he saw from the Sandal No. 8 as McMurdock went over so he promptly issued a Yellow Card and changed the award to a penalty try, thus nullifying the scrum half's name on the score sheet.
Despite being down to fourteen on the field, Sandal struck back with two tries in quick succession just before the interval. Both had their origins in Wilmslow errors, the first when a long kick ahead was knocked on as the ball squirted around in the wind. From the scrum in Wilmslow's twenty two, Sandal worked space for their left winger to go over for a second time and this was followed by another missed tackle in midfield which enabled their right winger to break away for their third score.
A 17 – 12 deficit at half time was a bit tough on the Wolves, who arguably had had more of the possession and territory during this period but they were still in the game and it was the best half time position, they'd been in since last September.
But it couldn't last! A handling error in their twenty two just after the restart gave Sandal a scrum in an inviting mid field position from which they put their right winger in for their fourth bonus point try. It says something for their speed and accuracy of passing on a blustery day that all four of their tries thus far had come from moving the ball quickly out wide. There was an immediate response from the Wolves but try scoring opportunities from two close in lineouts and a ten metre scrum all fizzled out in quick succession and when the Wolves were driven back, they conceded a penalty which was quickly taken by Sandal to release their left winger again for try number five.
The game was now up for the Wolves. There was still thirty minutes to play but Sandal knew they were on course for their eighth league win and mid table comfort and Wilmslow knew that they faced their seventeenth loss of the season. It was only a question of what the eventual margin would be. The home side was now playing with a bit of swagger every time they got the ball. If it hadn't been for their own carelessness and mounting penalty count against them, they would surely have added more than the two further tries that came their way.
The Wolves still had their share of first phase possession but collectively they never looked like making anything of it. There was a sense of doomed inevitability about them as they lost the cohesion and shape which they had shown in the first half hour as their play sunk into a morass of desperate unlikely options, dropped passes, turnovers and missed tackles, only crossing the gain line when Sandal were penalised. The Wolves are scrambling about in a deep hole, in vain trying to find a way to get out of it.
Sandal aren't the best side in this league, far from it, but they're now nearly twenty points clear of the best of the bottom four and a safe bet for another season at this level. At their best, they have a combative pack and outside players with pace and ball handling skills that can test all the sides in the league, let alone a struggling Wilmslow outfit. Elsewhere fellow strugglers Vale of Lune went down by 97 points at Hull, Kendal by 38 at Harrogate and Lymm by 17 – 31 at home to Kirkby Lonsdale. Two of these three look set to accompany Wilmslow into North 1 West next season. Next week's visitors to Wilmslow are Billingham who moved into second place by edging out Blaydon 24 – 22. They will surely have the bit between the teeth when they arrive at The Memorial Ground.
Photo: Conor McMurdock passes to Harry O'Louglin on the charge at Sandal.
Match report by David Pike.
Tags: