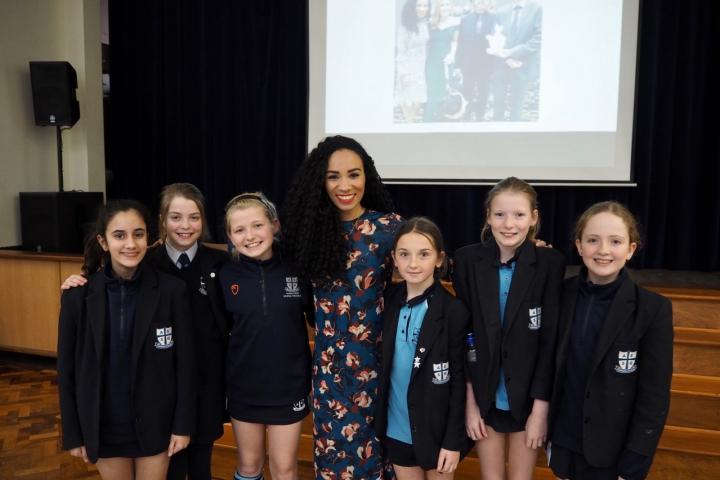 Alderley Edge School for Girls welcomed former pupil, Michelle Ackerley, back to school earlier this month to meet current pupils and speak to them as part of their monthly 'Lunch & Learn' events.
The TV presenter spoke to Senior School pupils and girls from Years 5 and 6 about her time at Mount Carmel and AESG, and about her successful journey since leaving the school.
Michelle, who still lives in Alderley Edge, regularly hosts The One Show alongside Matt Baker, which has seen her interviewing some of the biggest names in film and television including Samuel L Jackson, Tom Hiddleston, Danny Boyle and Naomie Harris to name but a few. Michelle also presents the new series of UKTV's Fantasy Homes by the Sea.
Having presented on BBC1's Watchdog, and Watchdog Test House, Michelle is also the roving reporter on Crimewatch Roadshow, where she can be seen getting involved in police riots, interviewing emergency service men and women and fully immersing herself in their worlds.
Michelle spoke fondly of her time at the school, was reunited with some of her former teachers who were still at the school and gave the girls advice about being resilient, persevering, believing in themselves and making the most of every day.
The girls were fascinated listening to her many stories, from her interviews to her first job in television at Blue Peter. She spoke about overcoming obstacles and turning knock backs into sources for positive motivation.
Michelle said "It was so fantastic to visit my old school and meet so many incredible students.
"They really are a testament to the school. It's lovely to see AESG going from strength to strength with teachers providing the support and inspiration needed for the girls to achieve their true potential."