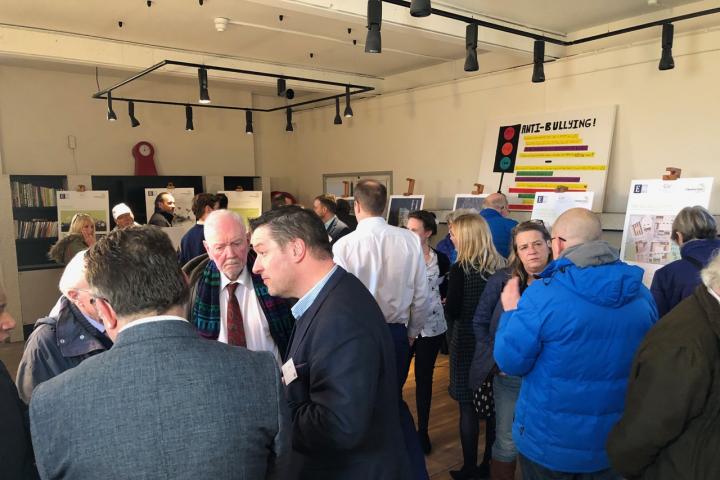 An exhibition of the proposals for The Garden Village at Handforth, organised by Cheshire East Council's development company, Engine of the North, attracted over 100 people on Wednesday, 16th January.
A broad range of interested parties went along to view the display at Handforth Youth Club and meet members of Members of the Engine of the North team who were on hand to answer any queries about the project.
In addition to local residents, those in attendance included councillors from Stockport MBC, Martin Watkins and Angela McPake from Wilmlow Town Council, the Head Teacher from the Wilmslow Academy Primary School, Friends of Handforth Station, the Chair from Smithy Model Aircraft Club who have for many years rented a small part of Handforth Meadows, Neighbourhood Plan representatives from Woodford, a representative from Handforth and cocoa councillors.
The proposed site is bordered by the A34 to the west and the A555 (Manchester Airport Eastern Link Road) to the north. Subject to receiving planning approval, the new village will provide 1,675 new residential properties. This will include a range of housing types and tenure; including affordable and starter homes, family houses and apartments.
It will also include bungalows suitable for older people and up to 175 extra care housing units for older people who need care. The village will also include employment land and a village centre with shops, pub, restaurants, etc. Other new facilities will include a primary school, children's day nursery, sports facilities, and a village hall. In addition, there will be around 47 hectares of green open space.
Speaking about the proposals, Councillor Barry Burkhill said "I had a long conversation with Scott Royal (Communications Manager at Engine of the North) at the exhibition. I stressed to him that as we have lost 65% of our strategic greenbelt here due to the CEC ruling group's Local Plan, there must be tangible benefits for those who would like to live within the Handforth Garden Village, particularly for our Handforth Ward residents who cannot afford to buy a home locally or even rent one affordably.
"Our main concern is to ensure that within the mix of housing types, there will predominate dwellings of one and two bedrooms, the type of housing which residents need as starter homes. Cheshire East's Planning Policy, sometimes ignored, is to ensure that 30% of a development is for affordable housing. We have been assured that at least 30% of the garden village will be affordable and more would be welcome. 65% of these must be for social rented accommodation which should be administered by a Housing Association or through CEC home choice.
"I also stressed to Scott that we don't want the private landlords buying up scores of the houses and then letting them off at unaffordable rents. Our aim is to ensure that Handforth residents are housed appropriately, to give the opportunity for young family members to move on and to ensure that there are enough dwellings for social rent to house those who are waiting for them."
Councillor Toni Fox, Dean Row Ward, who spent an hour and a half at the exhibition, said "It was disappointing that there wasn't any printed information available to take away but from what I witnessed officers were well informed and helpful on a broad range of topics. It was however unclear as to how the feedback would be considered and potentially incorporated in a planning application."
She added "Immediate concerns that come to mind are how "sustainable" the proposals are. Whilst the government and the Council are publicly committed to reducing air pollution and encouraging the use of public transport, walking and cycling, it is difficult to see how these are a priority for this site given it is bordered by two busy commuter transport corridors.
"For a significant portion of the site the distance is well in excess of the guideline distances for walking to facilities in Handforth, including the train station. This is likely to result in an increased requirement for parking in Handforth that is not currently available.
"Equally concerns relating to the provision of health services and secondary education provision remain outstanding."
Cllr Fox added "It unlikely to be a commercially viable Rapid Bus route and no detail has been given as to who will subsidise it, for what period of time, and what the routes will be.
"There are outstanding issues in respect of the Rapid Bus route via Dairy House Lane to Hall Moss Lane - how this will work in reality as a bus route only - given this is the main point of access to the MOD site and one of the accesses used by members of Total Fitness. Equally this is a cross border consideration for Stockport MBC and any traffic implications connected with it."
She continued "It is disappointing that that the area, designated in 2016 as a Local Wildlife Site which lies to the west of the site, is proposed to be largely built upon.
"A significant area of the site, previously occupied by the MOD, has been undisturbed for many years, more so since the A34 bypass was constructed in the 1990's. During the intervening period protected species have returned to this area. There are very few areas in the Borough of Cheshire East Council, particularly close to nearby conurbations in the north of Borough, that offer such diversity and ecological value on land that is not managed.
"The LWS that currently lies to the north of the access road to Total Fitness and west of the A34 has been largely ignored by the Council for many years. Protected species were relocated here where there are 3 large ponds as part of the both the Handforth Dean development and the A34 bypass. Over the years it has been subjected to heavy littering by off road bikers and folk fishing and no effort has been made by the Council to protect or look after it.
"Build rate on new development varies however if we take Heathfield Farm as an example they propose a build rate of 40 houses per annum. It seems somewhat unrealistic therefore that this site will be completed by 2030 even if there are multiple developers on site. It is baffling as to why such a timescale is being promoted."
Engine of the North is preparing to submit a planning application for The Garden Village at Handforth in the coming weeks, and will shortly conduct public consultation on the proposed planning application.
The planning application will be a 'hybrid' submission, with outline permission being sought to establish the principles for housing and the wider site layout, and detailed permission being sought for the site accesses, infrastructure and public realm to create the village centre.
Tags: