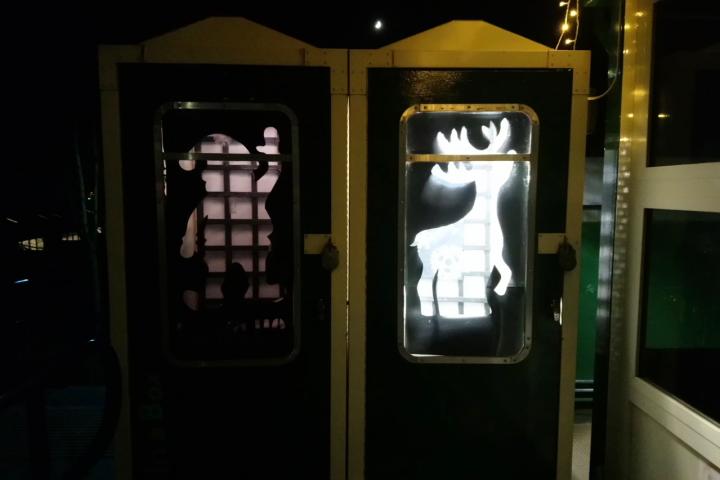 Over the last three years the three local primary schools have created Christmas themed illuminations for Handforth Station's 'Art in a Box' and this year it was the turn of Wilmslow Grange.
Daniella Hassell. 4th Year Teacher. explained how the project was created "Christmas was fast approaching! To help get into the Christmas spirit, Wilmslow Grange designed some festive art work for Handforth station, as part of their whole school project, 'Wilmslow GETS Together'.
"All the children at Wilmslow Grange have been getting involved with local community projects in Handforth. Year 4 class were very excited to be given the opportunity to create some Christmas inspired art work to be displayed at the station. Recently, in writing lessons the children have been writing about the story of Narnia: The Lion, The Witch and The Wardrobe. They created some beautiful writing and especially enjoyed describing the snowy scene of Narnia.
"This inspired the first part of the art work they created. Working in collaboration with the friends of Handforth Station, they decided that they would create a snowy scene and pair it with cut out silhouettes of well-known Christmas characters. The whole class was involved with creating this artwork over a couple of weeks. They started by spending one afternoon learning how to make paper snowflakes. With bucket loads of perseverance and determination, the children overcame any difficulties they had and created a variety of intricately designed snowflakes, which were all unique. They then used the beautiful snowflakes to create two snowy backdrops. To choose the well-known Christmas characters, the class discussed which characters they could use and then conducted a class vote to select three characters. Farther Christmas gained the most votes, closely followed by jolly snowmen and joyful Rudolph!
"The children had lots of fun creating this art work and are very excited for it to be displayed at Handforth train station. Merry Christmas from everyone at Wilmslow Grange!"
Mike Bishop, founder of the Friends of Handforth Station said "We have always enjoyed the enthusiasm of all the children in Handforth working with us and this year was no exception providing another unique exhibition."
He continued "We now have four 'galleries' to display artworks including sculptures and paintings and many works are already displayed - outdoors on the platforms, in our two art boxes where this exhibition is and two more displays in the ticket hall. All aspiring, emerging and established artists are challenged to provide new works for these galleries for 2019 perhaps even as good as those of the children."
Photo by Rob Sawyer.