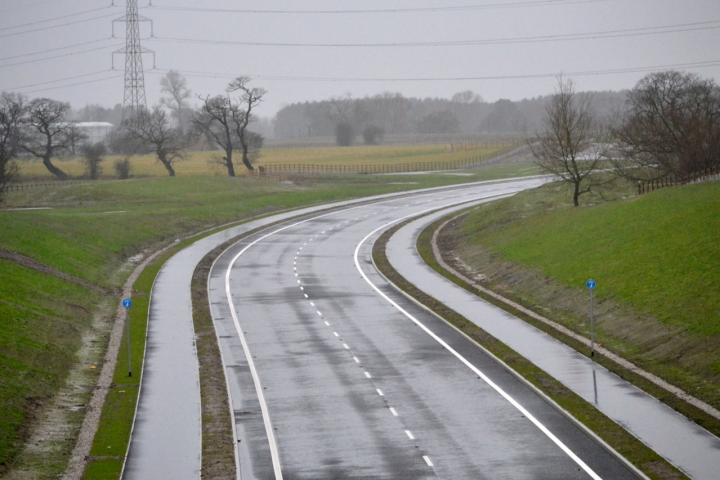 Following this week's tragic accident which resulted in the loss of three members of the same family, thousands of people are calling for action to be taken to improve the safety of Alderley Edge bypass.
Caroline Harrison has set up a petition calling for the A34 Melrose Way to be made a well lit dual carriage way which so far has been signed by over 3250 people.
She said "Since the opening of this stretch of the A34 there has been multiple accidents - some fatal!!
"This road has no lighting whatsoever.. by making it well lit and a dual carriage way with central reservations, will hopefully cut down the amount of accidents! We need to take control before anyone else looses family members!!"
There have been three fatal accidents, as a result of which six people sadly died, and many other serious collisions on this three mile stretch of the A34 since the £52 million bypass was open by the former Chancellor of the Exchequer George Osborne on November 19th, 2010.
Following a collision involving a car and a minibus on the A34 Melrose Way at 12.04am on Sunday, 4th November, three people died.Liyakat Sidat, 47, and his daughter Hajra Sidat, 14, died at the scene and his wife Salma Sidat, 41, died at hospital.
The family, from the Old Trafford area of Greater Manchester, were travelling in the car along with a nine-year-old girl and a 19-year-old woman, who are currently in hospital. Their respective conditions are described as critical and serious. Additionally, a number of casualties from the minibus were treated at the scene and taken to hospital.
In November 2017 two people died in a road traffic collision on the Alderley Edge bypass when a Ford Fusion traveling towards Congleton was in a collision with a Ford transit van traveling in the opposite direction.
Sadly the driver of the Ford Fusion, an 85-year-old man, and his passenger, an 82 year-old woman, died at the scene. Both were from Newcastle-under-Lyme.
In September 2013, 11 year old Flynn Morrissey died after being involved in a head on collision with another car on the A34 Alderley Edge bypass.
A red Porsche crossed into the opposite carriageway on a bend in the road and into the path of a Ford Focus being driven Flynn's mother by Nicola Clifford. Mrs Clifford had been taking her two sons to school. One was a front seat passenger, the other, 11 year old Flynn Morrissey, was in the back. Sadly Flynn sustained fatal injuries in the head on collision.
Councillor Craig Browne said "Following the tragic accident last Saturday evening, on behalf of the community of Alderley Edge, I offer my condolences to the bereaved families whose lives will have been altered forever by what has happened. This is not the time for finger pointing; however, there are questions which need answers.
"There have now been six fatalities over the last five years on the same section of Melrose Way; to the best of my knowledge, all have been caused by vehicles attempting to overtake. Twelve months ago, following the previous fatal accident, I called on Cheshire East Highways to introduce a 50mph speed restriction on Melrose Way, as well as double white lines to prohibit overtaking. This is the response I received from the Senior Highways Design Officer, in December 2017:
"The use of double white lines is strictly governed by national guidance as contravention is an endorsable offence. They must only be used where forward visibility is substandard for the speed of vehicles. The forward visibility on Melrose Way (A34) is in excess of the required level for their implementation and as such, they can not be introduced in this instance.At present we are liaising with Cheshire Constabulary and awaiting further details from their investigation in to the recent collision that resulted in fatalities. If through this investigation it is recommended that measures are required, then we will work closely with Cheshire Constabulary to identify the most appropriate evidence led action, including possible speed limit reductions."
"My request for double white lines was therefore dismissed, whilst my request for a speed limit reduction was left open, pending the results of a police investigation which have still not been made available to me. Whilst accidents will always happen, the real tragedy is that three people may have still been alive today, had the restrictions I asked for twelve months ago been implemented.
"Whilst the policy regarding visibility splays may be technically correct, there are now, tragically, six strong reasons why local conditions must be taken into account and action taken, both by Cheshire East Highways and also by Cheshire Police.
"I believe that the petition is well-intentioned and I appreciate the support it will give me in calling for change to be made; however, leaving aside for a moment the obvious cost and time to implement such a scheme (which could run into millions of pounds and several years), dual carriageways tend not to have a positive impact in terms of reducing speed, in fact they usually have the opposite effect.
"No solution is perfect and there will always be road accidents; however, the higher the speed involved, the more likely it is that those accidents will result in loss of life."
Updated" Friday 9th November
Councillor Don Stockton, Cheshire East Council cabinet member with responsibility for highways, said: "This was a tragic traffic accident and our thoughts and prayers are with the families and friends of all those involved.
"The Melrose Way crash is currently being investigated by Cheshire police and it would not be appropriate at this time to speculate on the possible causes of the collision or whether any additional safety measures are appropriate."
Tags: