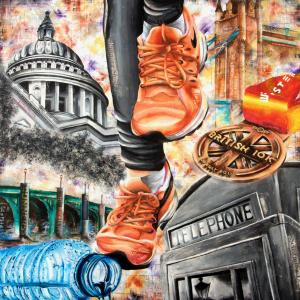 A former head girl at Alderley Edge School for Girls has won the northern regional finals of the ISA National Art Competition.
As a result Rowdah Charbak has qualified for the National competition with 'My 10K Journey' which formed part of her A Level Personal Investigation project.
Rowdah's piece of art was inspired by her personal journey raising money for Syria Relief. Rowdah has taken part in many marathons to raise thousands of pounds for the charity which is very close to her heart.
The techniques of her artwork were influenced by local artist, Rob Wilson, with whom she visited as part of the project.
Mrs Billington, Head of Art and Design at Alderley Edge School for Girls said: "The Art department is extremely proud of Rowdah's outstanding achievement in her A Level Art this summer and are delighted that her diligence and artistic talent have also been recognised in this prestigious competition."
Rowdah recently achieved an A* in her A Level Art and will continue her creative and academic journey studying Architecture at The University of Manchester.