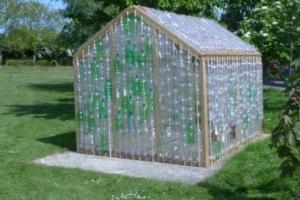 Wilmslow in Bloom is asking for help with this year's North West in Bloom entry..... but it's not quite what you'd expect.
Every year as part of the town's entry into the competition, volunteers create an artwork; two years ago there was the butterfly and bee woven fence in Bank Square, and last year Grove Street was decorated with woven willow flowers to complement the planting around the town.
This year the team is intending to create a greenhouse in Bank Square – out of plastic bottles!
Georgie Johnson explained "These greenhouses are remarkably effective and use up plastic bottles that would otherwise have to go in your recycling bin. Once the greenhouse has been created it will be in Bank Square as a place to come and swap seedlings and plants for everyone to enjoy."
The Wilmslow In Bloom team needs hundreds of empty 2 litre plastic bottles (either green or clear), not crushed and without their labels. If you have any they request that you drop them at Sainsburys (next to the bike sheds in the car park) or at Bank Square in the large bags that will be located there from Easter Weekend.
Georgie added "Once we have collected enough bottles, the greenhouse will be constructed and everyone is invited to come and help – look out for details over the next few weeks.
Wilmslow in Bloom is going for its 5th Gold Medal this year with the theme of "Blooming Wilmslow'. Local businesses will be received details of how to get involved in the next few weeks. For more information or to get involved contact [email protected].
Tags: