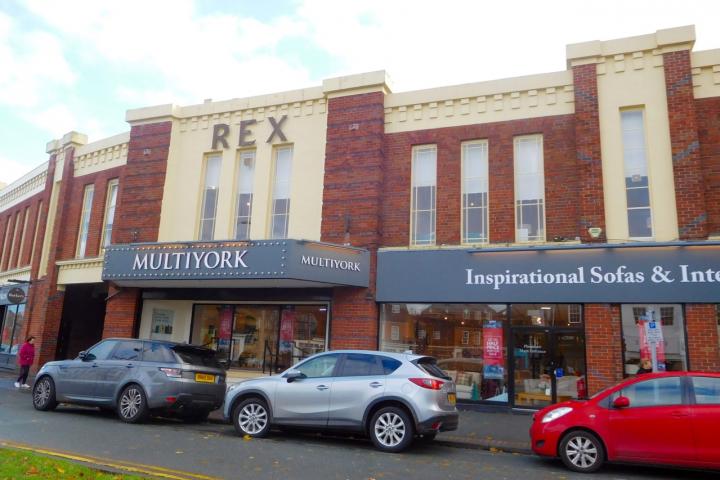 Wilmslow Town Council has agreed to explore the options for turning the Rex building back into a cinema as well as an arts and community space.
Speaking at the town council meeting on Monday, 19th February, Councillor Angela McPake said "One of the major things coming out of the Neighbourhood Plan in terms of the town centre was the fact there isn't actually a 'centre' in the town anymore and, if you were going to have a focal point, then that should be at the junction of Alderley Road and Water Lane i.e. where the Rex is.
"When it was announced that Multiyork was in administration, it quickly became the biggest story of the year in terms of public comment on wilmslow.co.uk. Very few of those comments were about Multiyork, many more were about how nice it would be to have a cinema and/or a community space back in the centre of the town."
Before Christmas Wilmslow Town Council wrote to the landlord expressing their interest in the future of the building, for possible use as a community arts-led space.
At that stage the Multiyork administrator was obligated to try and find someone to take on the remainder of the lease and had found a retailer to do that. However, 10 days ago the landlord informed the Town Council that the deal had fallen through and the administrator had now surrendered the lease back to the landlord.
Councillor Angela McPake said "They were now looking for a new tenant and were happy to consider a community arts led space utilising the existing cinema."
A group has also been set up on Facebook specifically with an interest in resurrecting the Rex as a cinema and community arts space which has over 2000 members.
Councillor Angela McPake continued "Clearly we are a very long way from having anything that looks like a firm plan but we are asking for permission to scope out options by speaking to anyone we believe we need to scope out those various options. That includes but isn't limited to the landlords agents, possible commercial partners, community groups, property and funding professionals.
"At this stage we have no idea how big a role we would need to take to make this a possibility. We need to work with anyone who is interested to see whether we can bring this to fruition. We clearly need to cost any options and come back to the council with that information to decide if we can do something and whether there is an appetite to do that."
Wilmslow Town Council will now enter into discussions with resident's groups, potential commercial partners and property agents regarding The Rex building and its potential as a cinema, arts and community space.
Cllr Frank McCarthy said "I had mixed views on this to start with because I am aware that the amount of money that's probably going to be involved. Though last week the Town Council were invited to have a look around the area and I was quite amazed to walk in to the old Rex cinema there it was with 330 seats still intact covered in dust."
Would you like to see The Rex building restored as a cinema and arts complex? Please share your views via the comment box below.
Tags: