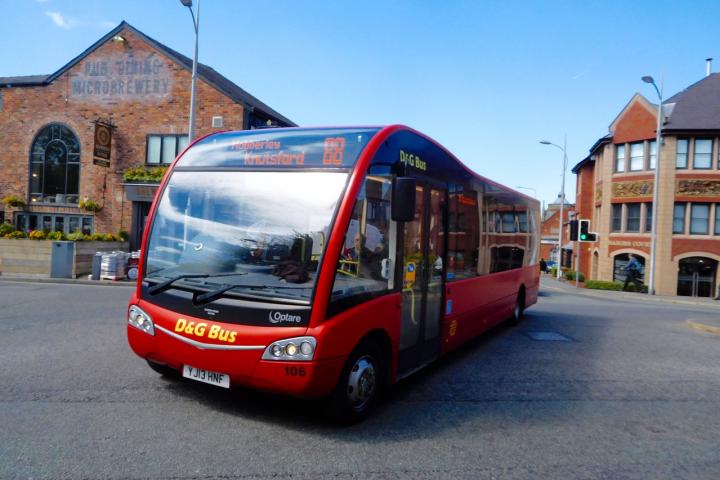 D&G's hourly 130 service which commenced on Monday 29th January will be changed on April 1st.
Instead of travelling from Macclesfield to Alderley Edge, Wilmslow and on to Handforth Dean (from Monday to Saturday) the 130 service will change from 1st April 2018 so buses will operate to Manchester Airport via Styal instead of Colshaw Farm and Handforth Dean.
A new service 88A will operate on Mondays to Fridays between Knutsford, Wilmslow and Colshaw Farm. The first bus will leave Wheelock Close at 7.12am stopping at Barlow Road, Lacey Green and Bank Square before proceeding to Knolls Green, Bucklow Avenue in Mobberley and terminating at Knutsford Bus Station at 7.57am. Then from 8.42am there will be an hourly 88A service with the last bus leaving Colshaw Farm at 5.47pm.
From 1st April 2018 the 130 will be an hourly (ish) service from Macclesfield Bus Station stopping at Macclesfield College, Macclesfield Hospital, Alderley Park, Alderley Edge, Bank Square Wilmslow and Hollin Lane in Styal before terminating at Manchester Airport.
Chris Almond, Bus Network Manager at D&G Bus Ltd, said "Service 130 is being re-routed to Manchester Airport to retain a direct service for Wilmslow and Styal and to offer new connections from Macclesfield and Alderley Edge."
He added "Service 88A will replace service 130 between Colshaw Farm and Wilmslow, extending to Knutsford to retain a 30 minutes frequency between Knutsford and Wilmslow with service 88. Service 88A will also operate via Lacey Green
where there is currently no service.
"Additionally, the new service 88 offers direct journeys between Wilmslow and Northwich."
All of the new timetables are available on the D&G Bus website.
Tags: