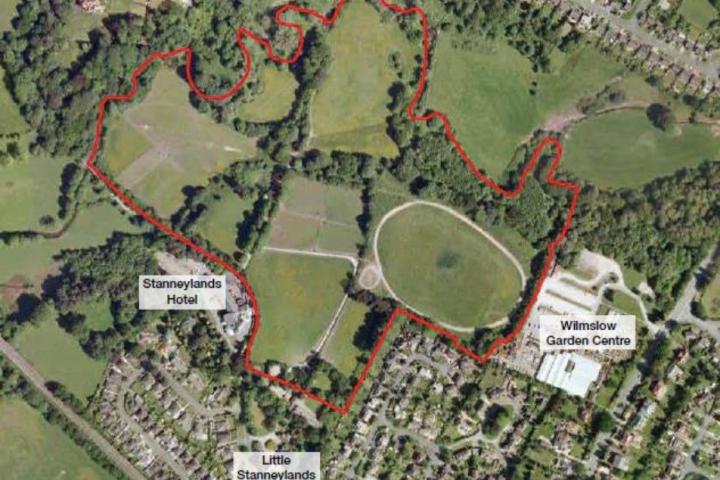 Members of Wilmslow Town Council have expressed their frustration that despite significant opposition from local residents and themselves, controversial plans to build 174 homes on land north of Stanneylands Road - which was released from the Green Belt following adoption of the Cheshire East Local Plan - were approved last month.
The Strategic Planning Committee voted 7 in favour and 4 against (with 1 member abstaining) for the David Wilson Homes' scheme, which includes 24 apartments and 150 houses - despite the Council receiving 815 letters objecting or commenting on the scheme.
Speaking at the Wilmslow Town Council meeting on Monday, 15th January, Cllr Christopher Dodson said "I don't know how any competent highways department could recommend that this proceed without an access from Manchester Road.
"No-one from the highways department seemed to descend that view but the decision was not helped by an unhelpful sentence in the Local Plan which states that 'access could be either from Stanneylands Road or from Manchester Road'.
"I think the only four speakers who could find their way to Wilmslow without the aid of a map were in favour of refusing permission at this stage. In the hope that, and expectation actually, that the applicant would be able to negotiate something with the garden centre in terms of access and I think that was much too readily dismissed. But the other members of the panel from Crewe and Alsager were less impressed by those arguments."
Cllr Frank McCarthy said "The very first thing we said is whatever happens on the site it cannot be allowed to come out on to Stanneylands Road. Anybody who knows that road and knows the amount of traffic on it at the moment knows it's already a problem."
He added "There will be a problem, we know there will be a problem and I find it quite upsetting that this has not been given the proper consideration."
Cllr Ian Ferguson said "I attended two walkabouts on the Stanneylands site and both times I spoke to the developer who took us round and on each occasion I raised the point of the access being from Manchester Road and on both occasions I was told it wasn't going to be there because they weren't talking and couldn't talk and wouldn't talk to the garden centre."
Cllr Angela McPake added "I don't think there is any doubt, the traffic information is flawed and it's resting on the fact that the SEMMMS road is going to have a much greater effect on Stanneylands Road than any other road in the area.
"Stanneylands is going to see a huge reduction in traffic, therefore in real terms there is going to be no increase in traffic - it makes no sense at all that this is the only road it is the case for. I think it is safe to say Cheshire East has shown little appetite for updating the information or getting another survey done. It is unbelievably frustrating."
Cllr Mark Goldsmith commented "I'd also like to add that SEMMMS was created to remove the traffic from Stanneylands and those sort of areas and not allow the council to top them back up with new developments. It's crazy, what are we paying for the SEMMMS for if thats the case."