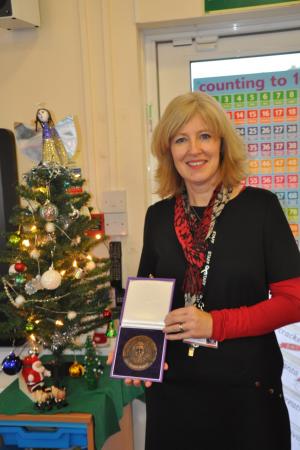 A teacher of the deaf at Lindow Community Primary School has been awarded a Distinguished Achievement Medal from the Faculty of Biology, Medicine and Health at the University of Manchester.
Kim Shepherd received her award of Postgraduate Taught Student of the Year 2017 from Professor Dame Nancy Rothwell, the University's President and Vice-Chancellor, at a ceremony this week.
The commendation acknowledges Kim's "exceptionally high marks" and her wonderful input into a programme looking at how hearing impairment affects children's balance.
It's not all been plain sailing for Kim though, after starting a part-time second degree in Deaf Education in 2013 she had her studies interrupted in 2014 when doctors discovered a brain tumour. Although the tumour was benign, Kim was seriously ill for over a year, eventually returning to the course in September 2015.
Kim said: "Discovering the tumour was a tremendous blow, but my doctors reassured me it could be removed and I would make a complete recovery. My course leaders were great: rather than having to give up, I was reassured that I could take an 'interruption' and return when I was better."
In spite of the adversity, Kim achieved high grades in her course and was even able to present a workshop on her chosen area of study at an educational conference in March this year.
In January, Kim was offered her dream job at Lindow Primary School, working part time as a teacher of the deaf. She added: "Learning about deaf education was like an awakening for me, especially as my operation had affected my balance. I began to view everything I knew about language learning through the prism of hearing loss and realised I wanted to refocus my skills and work with this exceptional group of children. There is always something to learn when you are teaching deaf children. It is a job that keeps you on your toes."
Everyone in the Lindow family is proud of Kim's achievement, Fran Holmes, Head of the Hearing Impaired Unit said "this award is richly deserved, Kim brings great dedication, enthusiasm ant innovation to teaching our children."