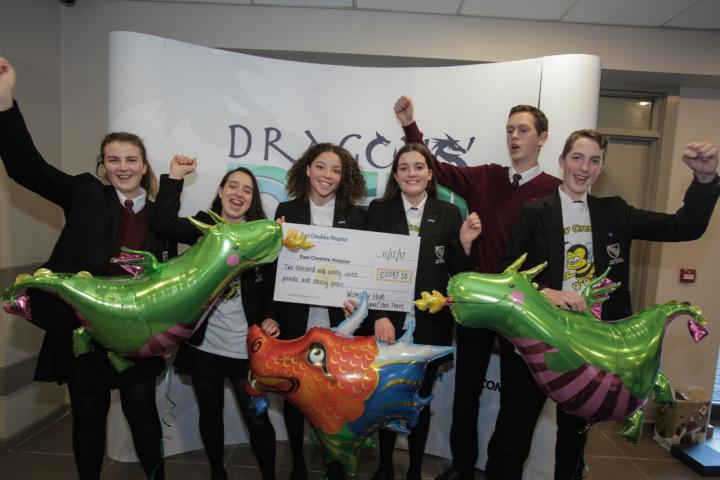 A team of 6 year 10 students from Wilmslow High School have met their target and raised over £2000 for East Cheshire Hospice.
Zenae Blackburn, Amelie Gifford, Evan Canny, James Wheeler and Laura Vilches of Bee Cosy Creations have been in business since October 5th as part of Manchester Airport's Dragons Den competition.
The project started in their business lessons when they came up with the concept of a "Bee Creative, Bee Relaxed, Bee Indulged" gift bag for Christmas - building on the theme of the Manchester Bee and containing hand-made scented candles, bath products and chocolate lollipops.
With the support of their business mentor, Stacey Shortall from Dnata, sixth formers (Millie Taylor and Josh Baxter), and friends, the team have developed their product over the past eight weeks into a professional looking gift bag which they have sold at thirteen events creating sales in excess of £3000, enabling them to hand over £2097.30 to Lisa Ball of East Cheshire Hospice at the Final on Monday, 11th December.
Their teacher Julia McHarg said "Although not enough to win the Manchester Airport competition, WHS Bee Cosy Creations were delighted to be awarded third place and were suitably in awe of the teams from Priestnall and St Anthony's Catholic High School in Urmston who raised a staggering £4300 and £6000 for their charities. Together the fourteen Greater Manchester schools raised over £20 000 for the hospitals and hospices in the Manchester area."
Speaking about the experience, Zenae Blackburn, managing director of Bee Cosy Creations, said "We have enjoyed interacting in a professional way with the general public and have gained great experience of running a business."
Tags: