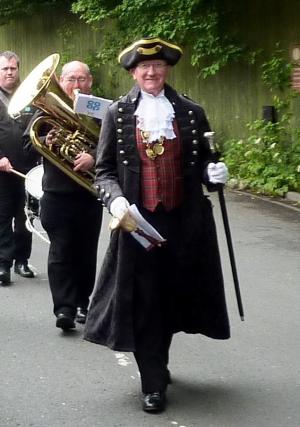 Wilmslow is getting a town crier who has volunteered to attend as many events as possible.
A gentleman who has recently moved to the area has volunteered to be a town crier for Wilmslow, having been a town crier for a number of years in North Manchester.
Whilst he has offered to provide this service free of charge he requires an outfit at a cost of £750.
Wilmslow Dean Rotary Club has agreed to pay £250 of this, and would use the services of the town crier for events they are organising in the town, and Wilmslow Town Council will fund the remaining £500.
The regalia will remain the property of the Town Council and there is a second person who has also offered their services free of charge, when required.
Speaking at the Town Council meeting on Monday, 20th November, Councillor Frank McCarthy said "The thing about having something like this is it raises the profile of the council and the works it's doing. Also it adds a great deal to these things. Those of us who have actually seen this particular gentleman at work will realise it raises the whole thing to a different order altogether.
"It does make a big difference to a town. It makes a big difference to the way people consider and look at the town and it works. Other towns have got these things and people take them for granted, it's part of the civic scene.
"We don't have a mayor, yes we have a chairman of the council, but something like this can do a great deal for Wilmslow. It's not just for us giving information it's the sort of thing people coming into Wilmslow would look for, making Wilmslow a place to come as a tourist thing."
Councillor Keith Chapman commented "I am somewhat dubious about it. Not on financial grounds actually but more on the grounds that is it the right modern image for Wilmslow today? When we're talking about the internet do we need someone with a bell?"
Councillor Angela McPake said "I have some doubt. From a PR and marketing point of view I can see the benefit, of course I can and I get your point about raising the profile about everything we're doing.
"There are enough organisations in Wilmslow who could make use of this gentleman doing the events, we could probably fill his diary every weekend, my concern is about money. I know £500 is a lot of money and I know its our bit of kit at the end of the day but there is a bit of me that is wondering how it will be interpreted by the people who perhaps don't understand the nuance of how important it would be and are they just going to see it as us frittering £500."
Councillor Frank McCarthy added "In this day of the internet and all of that, one of the great difficulties we have is communication. All of us who have been trying to communicate with people about the various things know how difficult it is to do in a town such as ours."
He added "Communicating in Wilmslow is extremely difficult. The big thing that happens is word of mouth. That's how word gets around in Wilmslow, it's word of mouth and something like this gets people talking and if you want to sell something in Wilmslow, or do something like this you have got someone in the street in Wilmslow doing it, people are going to talk about it. This is another very modern way of getting your message across."
Councillor Gary Barton said "I think it was interesting the comment about it being a bit old fashioned for Wilmslow. Wilmslow is a very old town indeed, with an Anglo-Saxon name and the site of the discovery of Lindow Man from the Bronze Age.
"There is a risk this is a bit naff, I do understand Councillor McPake's concerns - I share some of them myself - but I think it is worth trying, particularly in terms of the financial backing from the Rotary Club."
The Town Council voted in favour of spending £500 on regalia for the town crier, with the exception of Keith Chapman who voted against and Joan Fitzgerald and Angela McPake who both abstained.