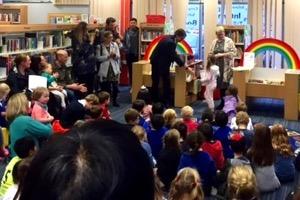 With 650 children registering for This year's Summer Reading Challenge proved another big success at Wilmslow Library with 650 local children signing up.
The challenge was completed by 377 children and a record 71 pre-school children also took part in the Mini Summer Reading Challenge.
Three awards ceremonies were held at Wilmslow Library on Monday 18th September, which were packed with proud mums, dads, grandparents, carers and of course the children who read all six books to complete the challenge.
Councillor Keith Chapman from Wilmslow Town Council attended the ceremonies, accompanied by his wife Kate, and Peter Bates, Chief Operating Officer for Cheshire East Council.
They handed out a medal and a certificate to all the children who attended and there was also a small gift and a certificate for the ten volunteers who had worked so hard over the summer listening to the children talk about the books they had read.
Librarian, Marg Charlesworth said, "This year's Summer Reading Challenge has been another great success. We are extremely grateful to the wonderful volunteers who gave their time so generously over the summer and to Wilmslow Town Council for the funding. Reading for pleasure is so important for children, not just for their English but across the curriculum. It also has significant benefit for their overall wellbeing. We hope that even though the Summer Reading Challenge is over for this year, that the children – and their families, will continue to visit the library regularly and enjoy the wonderful free resources on offer to them."
Wilmslow Library also hosted a programme of 10 events linked to the Animal Agents theme of the Summer Reading Challenge, these included Animal Magic animal handling, Spy Science, children's performer and storyteller John Kirk, Lego groups and a codebreakers session with author Jo Welch. All the events were funded by Wilmslow Town Council which meant they were free for the children to attend.