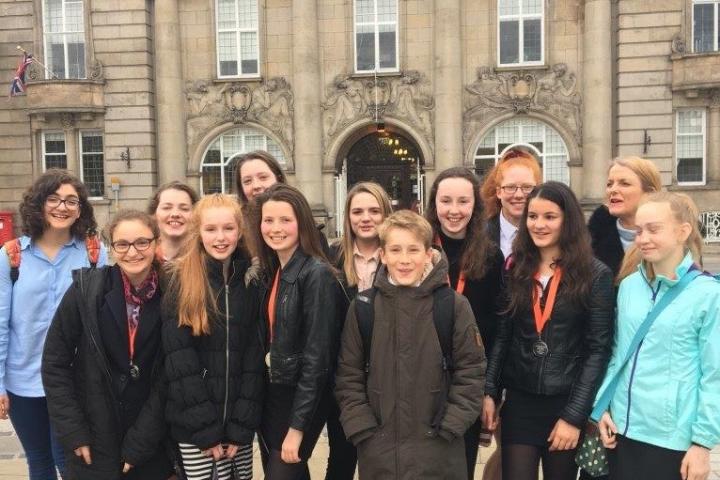 Wilmslow High School have won both the local and regional heat to secure a place in the national finals of the Magistrates' Mock Trial competition.
This is the 5th year in a row that the school team has made it to the final, putting them in the top 16 out of the 263 teams that entered from all over the country. Wilmslow High School will be aiming for a first, having come third in the country last year and second in 2015.
Law teacher Deborah Roussak said "That makes it sound easy. It isn't. It involves hours and hours of preparation and rehearsal, and stretching our brains until they go 'ping'."
The case was about stolen bikes. The Chapmans live in a flat. Nik Speller is their landlord. They don't get on. Nik hates the way they keep their four bikes in the communal area, blocking the exit and posing a fire hazard. She's threatened to move them lots of times. On Friday 13th January, Nik Speller goes shopping in the shop below the flat. Shortly afterwards, the bikes are wheeled off one by one. Three of them are found vandalised in bushes nearby. The fourth one is a blue and silver Carrera and... guess what? A blue and silver Carrera is found in Nik Speller's home. Whoops. That seems to nail it.
However, no-one can positively identify Nik Speller as being the thief. The CCTV footage saw someone in dark clothing, but we don't even know what Nik was wearing. She had keys to the communal area where the bikes were, but then so did everyone else who lived in the block, and it wasn't just Nik who hated the bikes being there. There is no forensic evidence, and no evidence at all about what happened to the bike locks. It's for the prosecution to prove beyond reasonable doubt that it was Nik Speller and none other who stole those bikes. If the witnesses can't be sure, how can the Magistrates?
Kate Rishworth got the award for the best individual performance in both the local heat and the regional final. As a barrister, she epitomised 'polite, measured and deadly'.
Deborah Roussak said "Our barristers, Clara Edler, Kate Rishworth and George Ainsworth, gave perfectly honed speeches and persuaded witnesses from other schools to admit that black was white. Our witnesses, Lilia Dandache (Les Chapman, in the flat as she was pulling a sickie from school), Jessica Davidson (Les Chapman's mum, has had lots of rows with Nik Speller), Sophie Williams (Nik Speller, the dodgy landlord) and Martha Simpson (working in the shop downstairs, had a long chat with Nik Speller about the bikes shortly before they disappeared) had an answer for everything.
"Despite valiant attempts by the other teams to crack them, they were nightmare witnesses who refused to budge an inch. Our Magistrates, Leila Mulholland and Alice Kraunsoe, were praised for their impartiality and clear thinking. Our legal advisor, Nyiree Couligan, was complemented for her excellent presentation. Our usher, Evie Clayton, was polite and organised, marshalling witnesses around."
The judges commented on how meticulously prepared they all were, how cleverly they analysed and argued the case and how professionally they presented it.
Deborah Roussak added "Now, we've got to get back to intensive rehearsals for the national finals in Nottingham Magistrates' Court on 17th June. These rehearsals got off to a great start on Monday evening when the team attended an 'Interested in a Career in Law?' talk run by local company and Wilmslow High School business partner, Bott & Co. Students left that inspiring question and answer session with a fantastic insight into what a career in law could like."