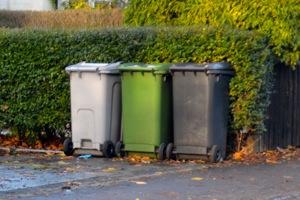 Cheshire East Council is seeking to provide a food waste recycling collection as part of their garden waste recycling service in order to reduce the disposal of food waste which currently accounts for 40% of the black bin waste.
Following a cabinet decision in September 2015 a procurement process has been undertaken to seek a solution to recycling mixed household food and garden waste.
A preferred bidder has been identified which would allow food waste recycling in the garden waste bin from 1st April 2019. The revenue cost of processing garden and food waste through this bidders solution would be less than the current processing costs of this waste stream.
The solution would involve the allocation of land and a capital contribution by the Council for the construction of an in-vessel composting system on a 4ha site at the rear of Leighton Grange Farm, Crewe - adjacent to the existing sewage works.
The bidder would be responsible for the design, planning, construction and operation of the plant for a 15 year period after which the asset would revert to the Council.
The proposed process involves the aerobic composting of the mixed food and garden waste within a vessel to produce the same quality compost currently produced by the Council's garden waste system.
The Council would need to commit capital investment in order to make the scheme viable. The total Council contribution would be £5.5 million in addition to highways works, estimated at £500,000 to £1 million, and the purchase of food waste caddies, which would need to be supplied to the relevant households, costing approximately £322,000.
Cabinet is being requested to authorise all the necessary actions at their meeting on Tuesday, 9th May, in order for the collection and treatment of food waste to be introduced as a part of the garden waste bin recycling scheme.
Planning permission would be required for the facility at the Council's site.
Tags: