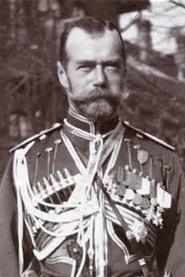 This was to be a momentous month. In Petrograd on 8th March (23rd February by the old Russian Julian calendar) a march by thousands of women in honour of International Women's Day grew into mass demonstrations, strikes, and mutinies against the conduct of the war and conditions at home.
This time the capital's garrison sided with the protestors. Politicians in the Duma formed a provisional government and on15th March the intransigent Tsar Nicholas II was forced to abdicate, thus ending 300 years of Romanov rule. The Allies rushed to recognise the new democratic government in the hope Russia would remain committed to the war. It was to do so until the "October Revolution" of Lenin and the Bolsheviks.
The Germans were now completing their 'Operation Alberich' withdrawal to the Hindenburg Line carrying out a scorched earth policy and leaving behind mines and booby traps on an unprecedented scale.
Three local men were to die on the Western Front. Private Thomas Alfred Worthington of the Labour Company in the King's Liverpool Regiment (65412) had been wounded in February and died at home on the 1st of the month aged 39. He was the son of Thomas and Margarete of 17 River Street and is buried in St Bart's churchyard. He is remembered in the church and on the civic memorial. He was a bricklayer before the war.
Peronne Communal Cemetery Extension contains the grave of Private Henry Burgess of the Argyll and Sutherland Highlanders (S/13694) who died on the 14th aged 23. He was hit by a shell at Howitzer Wood and was killed along with 2 friends who lie beside him. The son of Samuel and Annie of Maple Road Bramhall, he is remembered at St John's Lindow.
Like Thomas Worthington, Gunner Alexander Martin Cuningham is remembered on the civic memorial and in St Bart's. He was an assistant buyer and the husband of Edith of 22 High Street, Cheadle. He served with the Royal Garrison Artillery, 11th battalion (98261) firing our heaviest guns behind the lines. Enemy fire fractured his skull in February and he died in a Canadian hospital on the 17th. He is interred at Doullens Communal Cemetery Extension 1 30 miles north of Amiens.
Away from the trenches, Second Mate James Makant Roberts aged 39 of The Mercantile Marine drowned when his ship the "SS Stuart Prince" was torpedoed without warning 85 miles off Broadhaven, Co Mayo. Before the war he lived on Water Lane with father, James, mother Helen and a sister.
The British Empire finally began to take the Turks seriously. A properly equipped army under the resourceful Lt Gen Maude advanced up the Tigris and took Baghdad on the 11th. Less successful was our attack in the First battle of Gaza on the 26th in an attempt to move north in Palestine and eventually seize Jerusalem. Strong defensive positions, labyrinth of trenches and rumours of Turkish reinforcements led to orders to withdraw - much to the horror of local commanders. We had snatched defeat from the jaws of victory.
Accompanied by an Anzac Mounted Division the 1/7th battalion Cheshires were heavily involved and our community were to lose 5 young men on the day alone:
Pte Harry COLE; aged 21; Telegraph Messenger boy; South Oak Lane, Wilmslow; mother Ellen and 5 siblings; Memorials in Wilmslow (Civic), St Bart's and Jerusalem.
Pte Albert Vincent DAVIES; aged 22; Shop Assistant at the Station; Chapel St, Alderley Edge; father John, mother Mary and 7 siblings; St Bart's family grave, Memorials in Alderley Edge and Jerusalem.
Pte George Henry MASSEY; aged 27; Farm Labourer; Finney Green, Wilmslow; father Henry, mother Mary and 3 siblings; Memorials in Wilmslow (Civic), St Bart's and Gaza War Cemetery.
2nd Lt Arthur Blake SCOTT; aged 36 and veteran of Suvla Bay; Commercial Traveller in Wholesale Provisions; father Joseph, mother Sarah and 3 siblings; "Sarala" Wilmslow and Oak bank House Cheadle; Memorials in Wilmslow (Civic), Dean Row, St Chad's, Styal Norcliffe Chapel and Gaza War Cemetery.
Pte John SWINDELLS; aged 21; Apprentice Fitter; Mill Rd, Wilmslow; father Allan, mother Mary and 5 siblings; Memorials in Wilmslow (Civic), Wilmslow Methodist Church (Tin Mission) and Jerusalem.
The second battle of Gaza on 17 April was to prove equally disastrous. Not until the appointment of Allenby in June did matters improve in Palestine. Gaza was finally taken on 7 November and Jerusalem then lay open to the Allies.
Jon Armstrong and Alan Cooper
Wilmslow Historical Society
Photo: Tsar Nicholas II.
Tags: