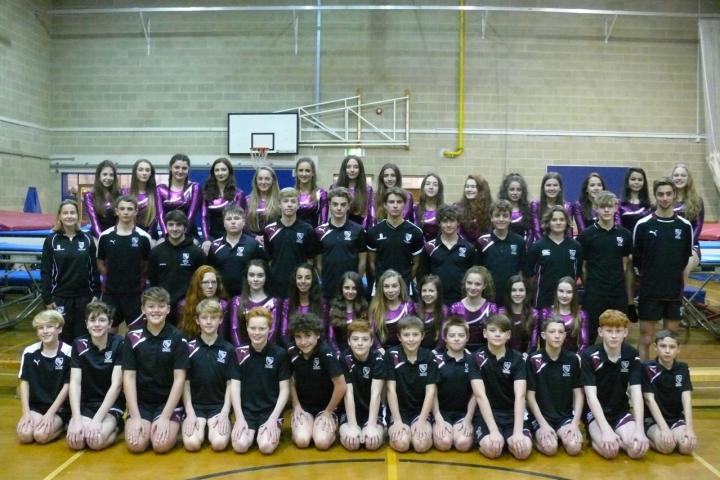 Following outstanding performances at the North West round of the National Schools' Trampolining Competition, Wilmslow High School's bouncers took part in the North Championships in Wigan on Saturday 4th February. Forty students were involved in the competition across a range of team and individual events.
Six students finished in podium positions in the individual competitions, securing a place in the National Finals. Alfie Kenworthy finished in 3rd place in the Under 14 Boys Novice event, Mollie Bennett finished 2nd in the Girls Under 14 Novice category, Ben Fazelynia, Tenniel Cowen and Dominic Rowe finished 1st, 2nd and 3rd in the Under 19 Boys Novice category, Esme Plant finished 3rd in the Under 19 Girls Intermediate competition and Conor Smith finished 2nd in the Under 19 Boys Elite event.
An unprecedented ten Wilmslow teams took part in the team competitions, with five of those finishing in podium places to qualify for the National finals to be held in Gateshead in March.
Qualifying teams:
Under 14 Boys Novice
Aidan Smith, Alfie Kenworthy, Oliver Gordon, Harvey Spendlow
Under 19 Boys Novice
James Jones, Tenniel Cowen, Dominic Rowe, Ben Fazelynia
Under 19 Girls Intermediate
Esme Plant, Gracie Davies, Georgia Long, Shauna Greaves
Under 19 Boys Intermediate
George Holt, Ethan Ford, Sam Falk
Under 19 Boys Elite
Brendan Smith, Matt Graham, Conor Smith, Jack Colledge
Huge congratulations go to all of the students who trained so hard for this competition and thanks to Hilary Pemberton, her team of coaches and to all those who helped judge, marshall and support on the day.
Guest post by Huw Williams.
Tags: