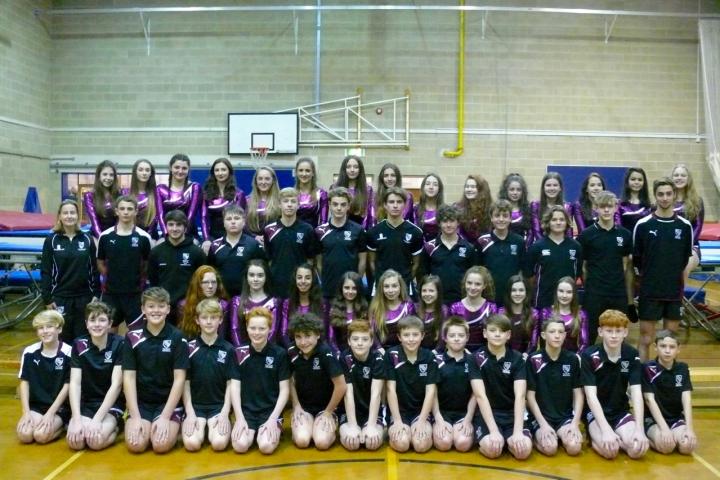 Wilmslow High School's trampolinists took part in the North West Championships in Wigan on Sunday, 4th December, and once again achieved a fantastic set of results.
In the individual competitions Wilmslow were North West champions in seven categories: Mollie Bennett (U14 girls novice), Juliette Hill (U19 girls novice), Gracie Davies (U19 girls intermediate), Aidan Smith (U14 boys novice), Ben Fazelynia (U19 boys novice), Ethan Ford (U19 boys intermediate) and Conor Smith (U19 boys elite).
Huw Williams, Team Leader for PE, said "The teams produced their best ever performances at this level, with podium finishes in all categories."
Ten of those teams will now go on to compete in the North Championships which will take place at the same venue in February.
Mr Williams added "Huge congratulations to all of the students who trained so hard for this competition and thanks to Hilary Pemberton, her team of coaches and to all those who helped judge, marshall and support on the day."
U14 girls novice 1st
Mollie Bennett 1st, Julia Cusworth 2nd, Georgie Andrew 14th and Amelie Mckay 15th, Clara Elder 19th.
U19 girls novice (2 teams) 1st and 2nd , both teams qualify.
Juliette Hill 1st, Izzie Hargreaves 2nd, Katie Phythian 3rd , Kate Russell 4th , Sara Shaanoun 5th, Millie Ridal 12th , Caitlin Metcalf 13th and Georgia Sherrington.
U19 girls Intermediate (2 teams) 1st and 3rd place.
Gracie Davies 1st , Esme Plant 2nd, Georgia Long 6th, Molly Andrew 7th, Elise Bale 10th, Shauna Greaves 12th and Megan Skidmore 19th .
U14 girls Intermediate 3rd
Maisie Calder 9th , Amy Worsley, Phoebe Gardner, Hannah Fazelynia
U14 boys Novice (2 teams) 1st and 2nd, both teams qualify,
Aidan Smith 1st, Alfie Kenworthy 3rd, Harvey Spendlow 5th, Oliver Gordon 6th, Ethan Hughes 7th, Jack Mitchell 8th , Harry Best 9th and Sam Poole 18th.
U14 Intermediate 2nd
Finlay Greenwood 2nd , Oliver Weir 4th, Ben Dickinson 6th, Joe Renshaw 7th
U19 novice, 1st
Ben Fazelynia 1st, Tenniel Cowen 2nd, Dominic Rowe 3rd
U19 Intermediate, 1st
Ethan Ford 1st, George Holt 2nd , Sam Falk 3rd
U19 elite, 1st
Conor Smith 1st, Jack Colledge 3rd , Brendan Smith 4th.
Tags: