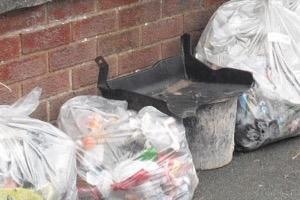 Wilmslow Clean Team has been awarded a community grant to help cover the cost of advertising materials and to enable them to purchase additional litter picking equipment.
They also wanted to use the money for their public liability insurance but unfortunately insurance cannot be covered by Cheshire East Council's scheme.
The Clean Team applied for £910 but Cheshire East Council awarded them £500 and recommended that they seek support from other sources for the remaining project costs.
Wilmslow Clean Team is a group of volunteers who help keep Wilmslow tidy by organising litter picking events twice a month. They were set up in October 2013 and started their litter picking events in December 2013. Since then they have collected 1200 bags of rubbish in the town.
The next Litter Picking Event will take place on Saturday 6th February from 10am to 12 noon. Volunteers will meet at The Honey Bee car park on Altrincham Road and the focus will be Altrincham Road and the airport tunnels.
They are always on the lookout for new volunteers and provide all the equipment, insurance and training. Visit their Volunteer page if you can spare some time to help.
The fourth and final round of grants for 2015-16 were considered on Monday, 1st February, and recommendations were made totalling £58,513.