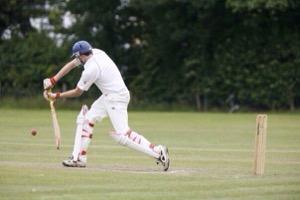 On a breezy day in Winsford, Wayfarers 1st Xi captain Mape lost the toss and his team were put into bat.
Openers, Hassard (46) and Wright (28) made a careful 40 partnership before Wright was bowled, Seal came and went before helpful contributions from Clinch (17) and Condliffe (22) ensured a modest total of 157, Webbo finishing with five wickets for the hosts.
Captain Mape (2-40)managed to strike two early blows and Wigley (1-23) kept his conpuser opening at the other end.
However the Crelin twins managed to steady the Winsford innings putting on 48, however it was Andy Bruce who produced a vital spell of mind-boggling Swing bowling (6-39) from his 15 overs which proved to be the winning formula, as Winsford fell for 134.
Next weekend Wilmslow Wayfarers host Wirral Cc at the Oakwood Farm Oval.
Match report by Matt Ladd.
Tags: