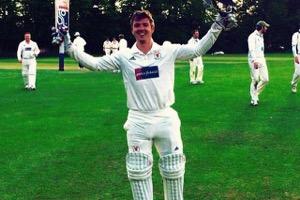 Wilmslow CC 152 for 4 beat Cholmondoley CC 150 for 8
Promoted last season, Wilmslow have had a mixed start to their season including a big win, two losses and a draw. This win therefore calmed some nerves, although it was not without a few scares. Whilst Rob Herriott's superb 104 deservedly secures the headlines, it was perhaps the tactical nous of skipper Patel that was the real difference.
The Rectory Field is not the biggest and the outfield is quick. If you are not careful, the runs keep piling up. Patel with his field placings chose to keep a check on those runs and the bowlers obliged with a tight line and length. Pick of the bowlers were Elliot Rowe 3 for 32 and Tom Rowe 3 for 47, the former being particularly frugal in his 14 overs. The target of 150 was well below par, and Wilmslow went to the crease with some confidence.
At 0 for 2 that assurance was being tested. Enter Herriott, who simply dominated. The target was reached in just 34 overs, the next highest score being Toby Rowe with 25.
The 2nd XI have found the new league much more to their liking and sit second after beating Barrow by just 11 runs in a real nailbiter
Batting first the Squirrels reached 187 for 7. Oakley and Ashraf with 35 set the tone but it was young Nathan Woodhouse with 85no who was the real star. Nathan along with brother Jake continue the Green dynasty. This graceful innings was more akin to Uncle Phil than club legend and Grandad Terry, who was more agricultural but just as effective.
All the bowlers chipped in, but Ashraf with 3 for 45 and Pickup with 4 for 39 unlocked the door to a third win out of four.
The 3rd XI played Nantwich in the Cheshire County League at their superb Whitehouse Lane ground and put up a plucky performance, losing by 5 wkts but making a lot of friends. Elliot Rowe with 75 helped the visitors to 135 ao. Wilmslow then put in a superb bowling and fielding performance, making Nantwich work for every run. Dixon, Sykes and Harding in particular, gave nothing away, but wickets were hard to find.
Match report by Mike Harding.