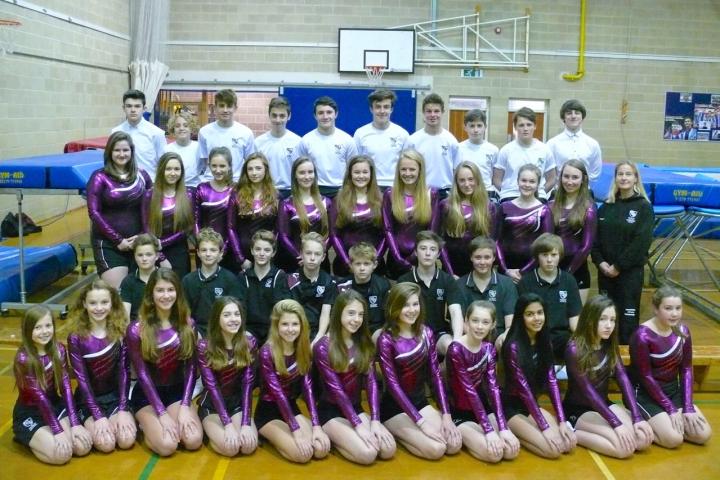 The North West schools trampoline competition took place on Saturday, 29th November, at Robin Park sports centre in Wigan. It was the 50th Anniversary of the competition with over 400 children taking part. Wilmslow High School entered 41 children and bounced themselves to new heights. Eight teams qualified and twelve individuals qualified for the North round of the competition to be held Ireland in January.
Twelve Wilmslow High School students won individual trophies for finishing in the top 3 in their respective categories. There was a clean sweep of trophies for the u14 novice girls with Bella Southerton 1st, Molly Andrews 2nd, Jacinta Kynaston 3rd and Esme Plant 4th.
George Holt won the u14 novice boys title with Conor Smith winning the u14 intermediate boys title and Ethan Ford coming in 3rd place.
The u19 girls were also crowned North West champions with Elise Potter becoming the girls' champion, Elise Bale in 2nd place and Phoebe Potter in 4th. The u19 boys were also successful with Ed Storer winning the competition, Sam Short in 2nd place and Paddy Draper in 3rd. In the competitive u19 elite category, Brendan Smith placed 2nd.
In the team event Wilmslow took nine teams with eight of those qualifying for the next round.
The u14 girls novice third team: Megan Skidmore, Amy Worsley, Emma Wilson and Jaya Das came a respectable 4th place out of 15 teams. Under 14 girls two teams qualified: Bella Southerton, Jacinta kynaston, Esme Plant, Shauna Greaves, Molly Andrews, Gracie Davies, Georgie long and Maisie Calder.
U14 boys teams to proceed novice and intermediate: George holt, Tom Holder, Sam Falk, Oliver Weir, James Jones, Conor Smith, Jack Colledge, Finley Greenwood and Ethan Ford. Under 19 girls teams novice and intermediate will proceed: Alice du fresne, Elise Potter, Elise Bale, Phoebe Potter, Vicki Cragg, Juliette Hill, Katie Mayoh and Izzy Hargreaves.
Under 19 boys teams novice and elite to proceed: Ed Storer, Sam Short, Paddy Draper, Tom Troup, Brenda Smith, Matt Graham, Will Cusworth and Nathan Sach .
Hilary Pemberton the trampoline coach was thrilled with another fantastic performance from the Wilmslow High School students. She said "To take eight team titles and twelve individual trophies is an amazing achievement."
She also recognised the essential contributions of the judges, helpers and parental support without which the students and teams would not have enjoyed so much success on the day.
Guest post by Huw Williams.
Tags: