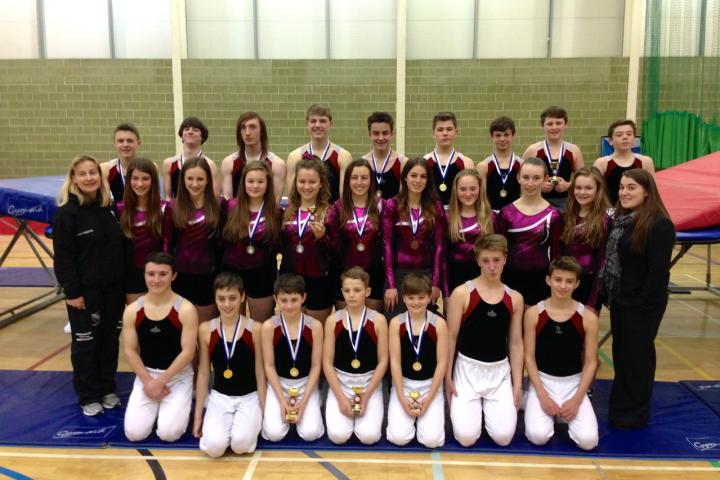 Wilmslow High School enjoyed another successful day at the North of England Trampolining Championships held in Hull on Sunday.
Seven Wilmslow teams qualified from the North West round back in November with the aim of reaching the National Finals in Gateshead in March.
In the Under 13 and Under 15 Girls' Novice categories, the teams came 5th and 6th respectively, but despite some strong performances, particularly from Jacinta Kynaston, who finished in 8th place, both teams missed out on qualification to the National finals.
The Under 19 Girls' Novice team finished in second place overall, booking their place in the National Finals, with Sara Howell 4th and Elise Potter 5th.
Outstanding performances from the four boys teams, Under 13 Novice, Under 15 Novice, Under 15 Elite and Under 19 Novice, saw them all finish in first place in their respective team competitions.
In addition to this team success, six students qualified for the individual competition at the National Finals: Brendan Smith, Nathan Sach, Jack Colledge and Will Cusworth all finished in the medal positions in their categories, while Conor Smith won the Under 13 Novice competition and Isaac Bass won the Under 19 Novice event.
Coach, Hilary Pemberton, was thrilled at the performances and commented, "The whole trampoline team is a pleasure to teach, they have all trained hard throughout the year and they should be very proud of themselves and how well they performed their routines on the day."
"Thanks must go to the coaches, officials, judges and marshals who were indispensible on the day, Anna Cragg, Dee Smith, Richard Downs, Vicki Cragg, Maisie Allinson and Freya Morton Smith, whose tireless efforts play such a big part in the continued success of trampolining at Wilmslow High School."
Member post by Huw Williams.
Tags: