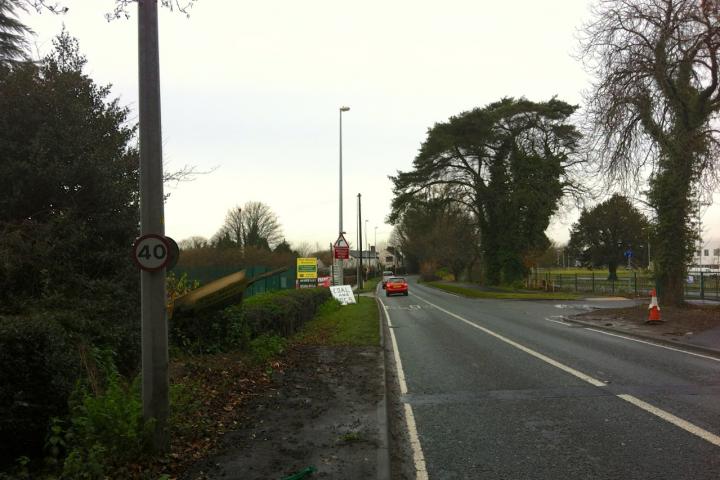 Some local residents and councillors were very disappointed to see that the 40mph speed limit on a stretch of Altrincham Road was restored a couple of months ago.
The speed limit was reduced temporarily from 40mph to 30mph in October 2012, for safety reasons whilst a new site access was constructed for the Waters Corporation's headquarters and the road realigned in the area.
However, following requests from local residents, Wilmslow Town Council wrote to Cheshire East Council earlier this year requesting that the temporary 30 zone be made permanent.
In March Cllr David Topping, Portfolio Holder for Environment responded saying "Recently a road safety audit was carried out of the alterations to the highway in this location. This indicated that a speed reduction to 30mph would be beneficial in this area. Work to implement this permanent speed limit will commence in the near future and will be subject to statutory procedures regarding consultation and also the Council's formal decision making procedures."
Following the restoration of the 40mph signs at the beginning of October, I contacted Cheshire East Council for confirmation of whether they are still considering reducing the speed limit to 30mph in this area as residents feared the review had been cancelled.
A Council spokesman said today: "Cheshire East Council is committed to making our roads safe for motorists and pedestrians, especially where there is construction traffic.
"As we announced back in January 2012, the temporary 30mph speed limit along Altrincham Road was intended to be in place until the end of construction works in that location (the Waters development), so that the risks of accidents were reduced while traffic entered and left the site.
"This phase has now ended and so the speed limit has been returned to its original limit of 40mph.
"However, a review is to be held with a view to looking at permanently reducing the speed limit on this section of road to 30mph."
Tags: