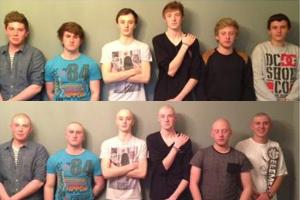 In a display of courage and comradeship, nine friends from Wilmslow High School have shaved their heads to support their close friend and raise money for Teenage Cancer Trust.
After hearing the news that their good friend Tom Lee, 17, had been diagnosed with Hodgkin's Lymphoma, the group of mates shaved their heads to show solidarity to Tom, and also to raise as much money as possible for charity.
Tom Sneyd, Jake Vaughan, Harry Stobart, Ollie Knight, Mike Loughlin, Harrison Peck, Seb Pemberton, Alex Lloyd and Tom Lee took to the barber's chair to face the clippers on Saturday, 23rd March.
Afterwards the group of sixth formers set up a JustGiving page and invited people to donate whatever they could to their chosen cause, The Teenage Cancer Trust. Donations came flooding in and at the last count over £3182 has been raised.
Ollie Knight said, "At first we were not considering raising money but to only shave our heads to support Tom. However I'm so pleased we decided to because of the incredible sum we have raised. We all feel extremely proud!"
Alex Lloyd added "The support from everyone so far has surpassed what we expected by a long, long way. I would like to thank every single person who has donated so far, the support they have given us, but more importantly the support for Tom and his family is astounding. We would appreciate it if people could continue to spread the word. The Teenage Cancer Trust does amazing work every day and deserve every penny they get."
The Teenage Cancer Trust is a charity devoted to improving the lives of teenagers and young adults with cancer,
If you would like to donate visit Tom Lee's JustGiving page or text LADS96 £(amount) to 70070.
Our thoughts are with Tom Lee who is currently at The Christie having chemotherapy.
Photo: (l-r) Tom Sneyd, Jake Vaughan, Tom Lee, Harry Stobart, Ollie Knight and Mike Loughlin.
Article by Lisa Reeves and James Andrews.
Tags: