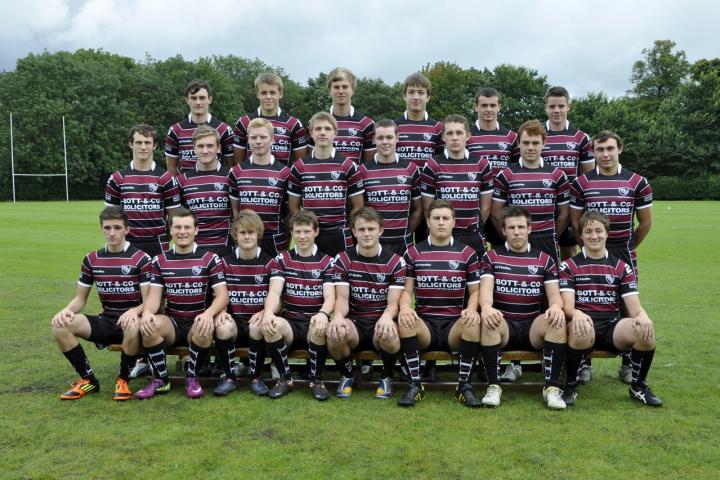 Wilmslow High School XV (10) 20
Wirral Grammar School XV (0) 12
In an entertaining game, Wilmslow were a cut above Wirral and progressed to the final of the Cheshire Cup.
Putting their exit from the Daily Mail Cup behind them, Wilmslow came out fighting and put paid to a resilient Wirral side. The away team gave a good shift in the second half but a poor showing in the first half dashed their hopes.
From the kick off, Wilmslow demonstrated some incisive play to hit Wirral hard from the outset. Keeping possession well, they pressed for an opening and this arrived in the tenth minute. After a controlled period of attack, Tommy Wilkinson scored a deserved try, a fair reflection of the opening exchanges. An accurate kick from Wilf Noden converted the points which gave Wilmslow a 7-0 lead.
Following this, Wilmslow really took charge of the match, with patient build up leading to some strong runs from Elliot Rowe and Aiden Westaway. Another try may have seemed imminent but was not forthcoming yet, as Wirral's defence held firm.
Growing stronger as the half ended, Wirral mounted some reasonable attacks, which were eventually suppressed. A Noden penalty to Wilmslow boosted their tally to 10-0.
The second half was relatively open, with end-to-end plays culminating in a Wirral try. After believing they had scored with their first attempt, which was ruled out, they came back and did manage to touch down. The conversion unluckily hit the inside of the post, bouncing back out. Knowing that at 10-5, another converted try would do it for them, Wirral pushed on.
However, Wirral's attacking play left them open at the back, and Sam Broster completed a trademark twisting run with a superb try. Converted once more by Noden, Wilmslow moved into a 17-5 lead.
This was not to last though, as perhaps taking their foot off the gas a little, Wilmslow conceded a quick-fire try that Wirral were able to score right in the corner after a break down the wing. Wirral's scrumhalf made sure with the kick this time, bringing the scores to 17-12.
Making a powerful finish to the game, Wilmslow scored another penalty to cement their authority. Wirral had the chance to set up a close ending, but two missed penalties assured Wilmslow of their victory.
Now into the final, Wilmslow will look cap off a successful season to secure silverware for the contingent of Year 13 players leaving in the summer.
Match report by James Andrew, Sixth Form student at Wilmslow High School.
Tags: