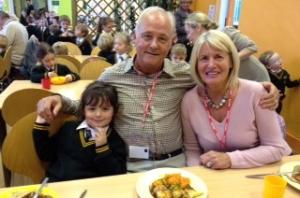 Children at Gorsey Bank Primary School and Lacey Green Primary Academy celebrated the Food for Life Partnership Roast Dinner Day this week.
A freshly prepared local and seasonal roast dinner was served to 546 children who invited their grandparents to join them in a celebration of the great British roast dinner.
This year more than 6850 schools and 28 caterers participated serving more than 1 million roast dinners on the same day.
Jeanette Orrey MBE, School Meals Policy Advisor and former dinner lady who inspired Jamie Oliver's school dinner campaign, said "The Food for Life Partnership Roast Dinner Day is all about celebrating the fantastic catering staff, who are serving freshly prepared food to our children every day, as well as celebrating how far we've come in improving school meals across the country.
"It's about engaging parents and local communities, in order to create a better food culture for all. It's about highlighting the importance of good, healthy school dinners and educating children about where their food comes from through growing, cooking and farm visits."
Anya Murray, Company Director at School Food Company, who provided the meals, said "We had a fantastic day with the staff, children and grandparents ... 546 happy customers can't be wrong!
"Our catering teams prepared, cooked and served 33 kilos of locally sourced organic beef, 546 homemade Yorkshire puddings, 55 kilos of roast potatoes, seasonal vegetables and lashings of gravy ... not to mention the homemade desserts! Our fabulous catering teams work really hard all year round, cooking over 75% of dishes from scratch, and this annual event provides an excellent platform for them to showcase their culinary talents."