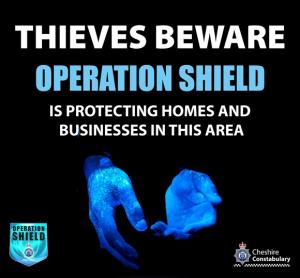 A crime-fighting tool that helps protect business and shop premises from burglaries and robberies has been rolled out in Cheshire.
SelectaDNA Intruder Spray kits have been installed in a number of shops in the county as part of Cheshire Constabulary's wider Operation Shield initiative.
The spray kits are designed to activate in the event of a crime taking place on the premises, and may be linked either to intruder alarm systems or installed as a stand-alone system activated by a panic button.
Once triggered, the offender is soaked in a solution containing a unique DNA code and UV tracer specific to that business.
If the offender is subsequently caught, or is involved in another crime, officers will use specialist lighting to see if they have been marked by the colourless liquid – and the DNA code will prove that they are directly linked to the offence.
Chief Inspector Duncan Gouck, the Force Lead for Operation Shield, said: "The SelectaDNA Intruder Spray is a fantastic commercial burglary and robbery deterrent, and an ideal way for premises in Cheshire to protect their valuable stock and assets.
"We know that robbery is a distressing crime leaving people feeling violated in their own place of work, and that theft can be extremely damaging to people's businesses.
"These devices will help to ensure people feel safe but also should deter offenders from committing these crimes in shop premises.
"Obviously not every shop in Cheshire will be fitted with one, but offenders won't know which ones do and they run the risk of being marked with the liquid in any shops that they choose to target.
"They also won't know the liquid is on them and they will find it incredibly difficult to remove – making it easier for officers to detect them.
"We hope it acts as a deterrent by creating a hostile environment for offenders choosing to commit crime in Cheshire."
The spray kits have been funded by Cheshire's Police and Crime Commissioner John Dwyer.
He said: "Preventing and tackling crime is a priority in the Police and Crime Plan, so I'm delighted to support the next phase of Operation Shield in helping to identify and deter the criminals who target shops and other commercial premises.
"Selecta DNA has proven extremely useful in getting criminals off our streets and recovering stolen property. Using it in this way to target people intending to commit burglary or robbery sends a clear message that Cheshire is a hostile environment for anyone who comes here to commit crime."