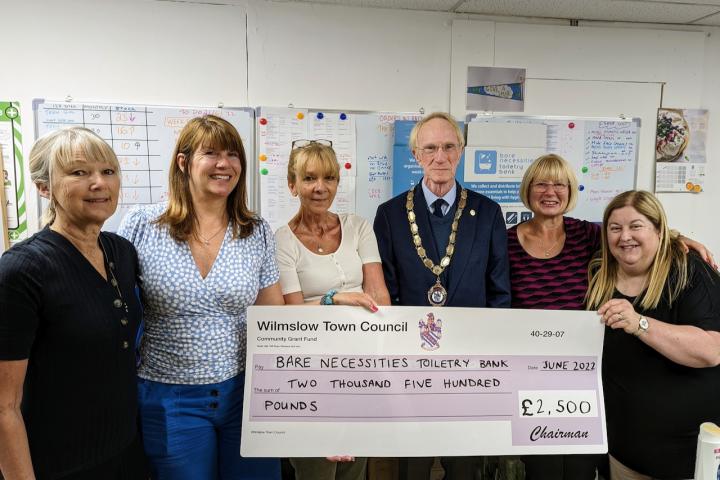 The Team at Bare Necessities Toiletry Bank have received a grant of £2500 from Wilmslow Town Council.
Frank McCarthy, Chair of Wilmslow Town Council, visited the team recently who were busy packing up bags of essentials for teenage girls and boys.
Frank presented the cheque to support their on-going work. The money will be used to buy toiletries in bulk that will form just some of the essentials that go into the packs.
Wendy Hobson of Bare Necessities explained "Products like toothpaste, shampoo and soap, everyday items that we all take for granted but many people find hard to provide for their families when they are already struggling to buy enough food to feed themselves.
"Whilst Bare Necessities is very grateful to individuals who put products into their donation boxes this grant will help us when we have a shortfall of specificitems."
The bags are distributed to existing organisations and charities in the Wilmslow and South Manchester area whose clients are suffering hardship or poverty.
Wendy commented, "It was such a pleasure to host Mr McCarthy, showing him at first-hand how the bags are packed and explaining where they are distributed to. It highlighted to him how the grant, we have received, will be put to good use."