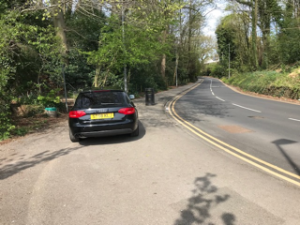 With the warm weather approaching concerns have been raised about the return of a reoccurring problem at the town park.
Last summer Wilmslow Town Council installed floral planters on the pavement at the bottom of Cliff Road in an attempt to discourage parking on the pavement, that on sunny days prevents the safe use by pedestrians and in particular wheelchair and pushchair users.
They decided to take action because, whilst this problem started sometime ago, the regularity of such obstructive parking increased during the past two summers.
However, the planters were subsequently removed and relocated due to them repeated vandalism.
Councillor Don Stockton said "It was a long fight to get anything done, at all, on Cliff Road by Cheshire East Cheshire.
"We were offered (permanent ?) red and white water filled plastic bollards, as reference was always made to potential service disruption, expense and safety hazards, if concrete posts were installed.
"Fortunately, WTC got planters put in place, which in my view, was a great solution. Unfortunately, person or persons unknown took it upon themselves to tip the planters over, time after time, on their way home from Wilmslow during the night ! Because of the difficulty of righting and replanting each time they were turned over, WTC reluctantly removed them.
"We currently await the outcome of the CEC consultation on the proposed cycle lane and one way system on Cliff Road. This may prevent this perennial problem IF implemented along with greater parking enforcement from CEC."
Matthew Jackson, Town Clerk, said "In addition to Don's points I would add that the persistent attacks on the planters and the reduced parking demand in the Autumn led to their movement at that time. They are currently in the town centre in full su, enhancing the environment and not being routinely attacked.
"The problem parking in this area has been far worse over the last two summers than it ever was in the prior to that, due no doubt to the Covid lockdowns and the popularity of the Carrs as a regional attraction at that time. We do not know if the more relaxed Covid situation in summer 2022 will mean that we go back to previous visitor numbers or if the particularly high visitor numbers continue."
He added "The Town Council will monitor closely the situation over the coming 4-6 weeks, if the pavement is being blocked to the extent that pedestrians, pushchair users or wheelchair users are needing to go into the road and if the statutory authorities, responsible for parking enforcement and obstruction, are not taking action then the Town Council will consider reintroducing the planters to Cliff Road when they are replanted for the summer months.
"Along with Don I would hope that if the cycle lane proposal for Cliff Road is taken forward by CEC, that the design of this may bring about a permanent solution."
Photo taken Friday, 15th April.