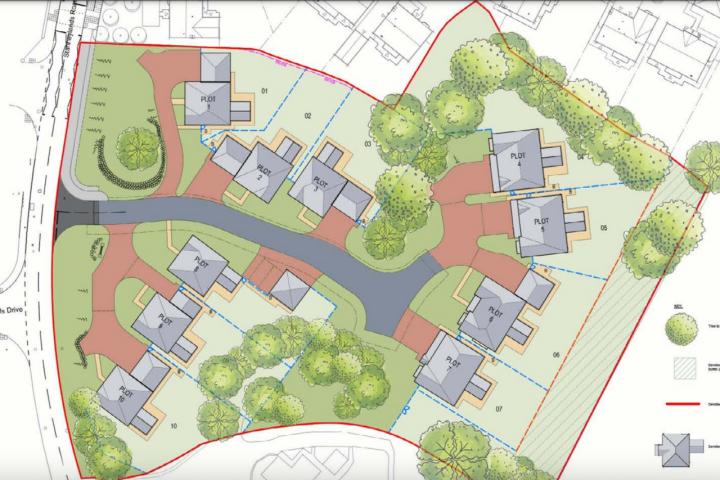 Plans to demolish the existing buildings and erect 10 dwellings with associated garages, parking, gardens, access and landscaping at Little Stanneylands will be determined by the Northern Planning Committee next week.
The scheme will replace the existing buildings with seven 4-bedroom detached homes along with three 5-bedroom family homes on a one hectare located immediately south of the large residential development whiich currently under construction.
There are currently five existing buildings on site, comprising three single storey stable buildings, a small stable block and a large two-storey barn with mezzanine floor which was used for storage.
Wilmslow Town Council recommended refusal of this planning application on the grounds of being out-of-keeping with the character of the Grade II Listed Building within its immediate vicinity and fails to provide adequate affordable housing within the proposed scheme.
Objections have been received from approximately 40 addresses, issue raised included: the 174 homes adjacent to the site have changed the nature of the area, the development does not meet housing needs; including affordable homes; impact of development on protected trees and wildlife; area has insufficient infrastructure, including school places and access road to the site is unsuitable and there are too many entrances onto Stanneylands Road in quick succession.
The planning officer has recommended the application for approval at the meeting of the Northern Planning Committee on Wednesday, 23rd February.
The planning offer stated "The application site comprises a vacant, previously developed site in a sustainable location, with good access to a range of local services and facilities and has good public transport links. The proposed development would add to the stock of housing in the local area. The proposal provides a locally distinctive design, which also raises no significant highway safety, ecological or flood risk concerns, and does not raise any significant concerns in terms of the impact of the development upon the living conditions of neighbours. The application is considered to result in less than substantial harm to the listed buildings and their setting.
"Nevertheless, the proposal would include a number of public benefits. On balance, the provision of new housing within a sustainable location on part of an allocated site, two of which would be affordable would outweigh the harm to the listed buildings. The application is recommended for approval."
The plans can be viewed on the Cheshire East Council website by searching for planning reference 20/4737M.
Editors note: This article was updated and corrected on Thursday 17th due to my error in connecting this to planning application 21/4264M for the conversion of the nearby dwelling and its outbuildings into ten separate dwellings, which was withdrawn in October 2021.