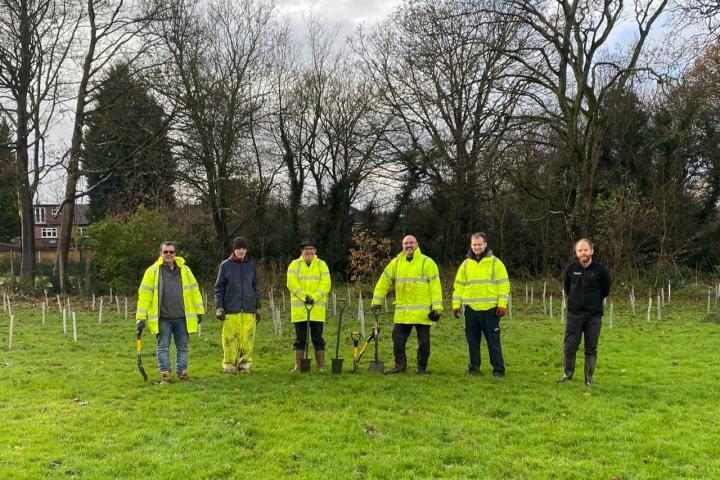 Hundreds of trees were planted in Wilmslow last week as part of National Tree Planting Week.
A total of 800 trees were planted at three locations in the town which were identified by Ansa Environmental as places that needed increased woodland edge.
The planting was carried out at Barlow Road in Lacey Green, The Carrs and Carnival Field.
Ryan Pearce, Partnership Director at EQUANS UK & Ireland, said: "It's great to get involved in activities such as this one with Cheshire East Council and partners, combining social value with sustainability; two of our biggest priorities. We're proud to be improving the communities we work in and look forward to continuing to work with CEC as part of our partnership moving forward."
Chair of the environment and communities committee for Cheshire East Council, Councillor Mick Warren, said: "The council has an ambitious target to become carbon neutral in its own operations by 2025 – and in working together with the wider borough to support individuals, schools and organisations to reduce their emissions.
"Where we are unable to remove our own carbon emissions completely, we are taking steps to offset carbon locally – through initiatives such as tree planting.
"No-one can tackle the climate emergency alone, as has been highlighted during recent COP26 discussions. Examples of joint working such as this project with EQUANS are vital in enabling us to create high quality woodland that offsets our emissions, as well as providing a range of other benefits to the natural environment, including engaging with and supporting community development."
EQUANS has recently been awarded a 10-year, £97 million facilities management (FM) contract by CEC which will see them not only deliver FM, capital projects and compliance services work to Council buildings across the region - but also serve as a strategic partner to support Cheshire East's net zero carbon targets.