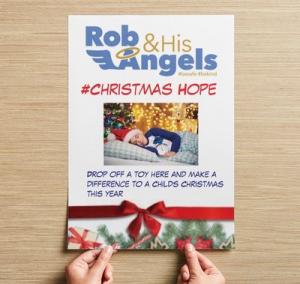 A Wilmslow man who started dropping off cakes and sandwiches to his neighbours and friends to cheer them up at the beginning of the lockdown last year is running a Christmas campaign again this year.
The team are gearing up again for the festive season with their initiative called Christmas Hope - to deliver presents and hampers to local families in need and those who are vulnerable.
Robert Topping along with his 'Angels' is working with local businesses and schools to provide Christmas treats to the less fortunate during the upcoming festive season.
The team are busy doing lots of fund raising to ensure they can get to all the children on their list and their next event is a Santa meet and greet on Saturday 4th December from 11am to 5pm at the Freemasons Arms in Handforth.
Every child will meet Santa and receive a free gift and there will also be mulled wine, hot drinks and mince pies available.
Rob Topping told wilmslow.co.uk "All monies raised will go towards providing gifts for local children in the area who, without us, won't get to open presents this year.
"Currently we have over 2000 children our list and our aim is to deliver to each and everyone one of them. Last year we were able to deliver 6 presents to open for every single child on our list. This years it's even harder. So we are desperately in need of support and we are a Wilmslow based volunteer group."