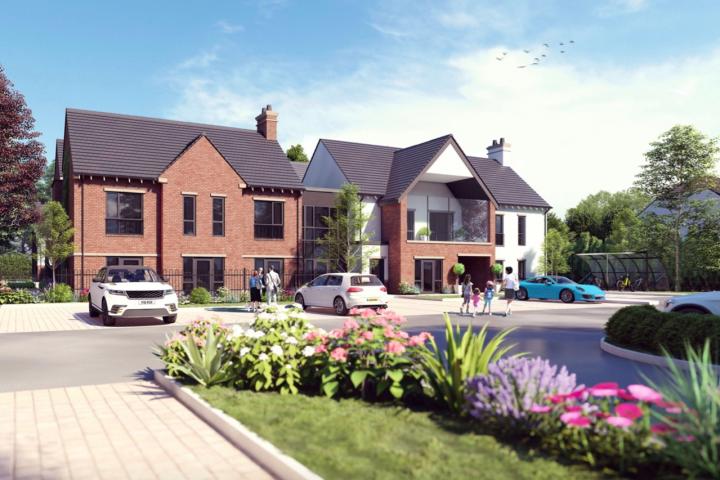 An appeal has been allowed and planning permission granted to enable a new care home to be built in on Wilmslow.
Care UK have won their appeal to demolish two detached dwellings with detached garages at 107 - 109 Manchester Road and replace them with a two storey care home.
The controversial plans were refused by the Northern Planning Committee in November 2020 when members went against the Planning Officer's recommendation and voted by 8 votes to 2 to refuse Care UK's plans to build a care home containing 60 ensuite bedrooms and parking for 33 cars at the front of the site.
Having considered the main issues of "the effect of the proposal on the character and appearance of the area, and whether there is a proven need for the proposal" the Planning Inspectorate concluded "Although the proposal would replace two detached dwellings with a single larger building, I am satisfied that the design and appearance of this would not be so different as to be harmful to that established character and appearance.
"In my opinion, the glazed split in the front elevation, combined with the different approaches and appearances of the elements to either side of it would
successfully integrate the proposal with its mixed surroundings."
Regarding proven need for a new care home, the Planning Inspectorate concluded "The evidence of the appellant is compelling in demonstrating that there is a significant current unmet need for care home spaces in the area, and that this need will continue to grow in the future. Evidence from both parties supports the forecast demographic shifts towards an older population, and in particular, a local population aging at a faster rate than elsewhere in the region or country as a whole.
"Even accepting the degree of uncertainty inherent in any forecasting, given the scale of need relative to the scale of the proposal, I find that the evidence
before me is compelling and that it proves a need for the appeal proposal."
Objections were received from 145 properties who raised concerns regarding a lack of car parking, highway safety issues, poor drainage, doctors' surgeries in the area will be overwhelmed, there is not a need in the area for additional care homes, loss of light and overlooking to surrounding adjacent neighbours, the building will be out of character with the surrounding area and public transport is lacking to the site.
Wilmslow Town Council recommended refusal of the application on the grounds of overdevelopment of the site within a low-density area and being contrary to Policy NE6 of the Wilmslow Neighbourhood Plan with regards to garden development. They stated "The development is out-of-keeping with the streetscene, particularly in terms of mass. The proposed parking provision is of poor design, insufficient and contrary to Cheshire East Council's policy in respect of care home parking provision."
The plans can be viewed on the Cheshire East Council planning portal by searching for planning reference 20/1560M.