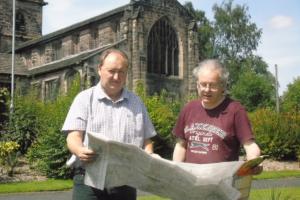 Wilmslow Historical Society are celebrating another successful season of town tours organised as part of English Heritage Open Days, England's largest history festival.
David Briggs, Society Chair said "This was the third year running that our society has staged these free tours, I am pleased we kept going and could run them safely during Covid. I think they have been very well received.
"Now over two hundred people have been on our town tours and we have hosted over eighty guests alone this season, our best ever total. Peoples' stories as we walked were really fascinating from family memories of working in Wilmslow Laundry to the final days of Wilmslow's second cinema, the Palace. At the church one visitor asked about the wild cat and wild dog at the feet of St Bartholomew, our patron saint, and another promptly explained they were there to protect him just as they do at many churches across Europe.
"Alan Turing featured large again this time and we were able to explain his ground breaking thinking on maths in biology which explains the seeds on a sunflower and the patterns on tropical fish and have potential to understand evolution and for medical healthcare. This work is now being widely recognised right around the world. Our walks are all about trying to make history more accessible to everyone so we are delighted that Wilmslow people have been so supportive of the tours organised by Jon Kelly and Steve Hunt"
Cllr Jon Kelly, added "Interestingly this year we also had visitors from Poynton and Bramall. There was a consensus that it would be valuable to mark our rich hidden history in the town centre and a statue of Alan Turing was spontaneously mentioned by several guests in particular.
"History and culture is a great asset and can be very helpful in encouraging people to spend enjoyable time in Wilmslow Centre. I think if we can attract more visitors too this will help the town centre's revival and we are going to have a good think about how our rich and varied history might be best presented."
After a year of computer based meetings Wilmslow Historical society has now restarted its physical meetings, people can get more details of these by contacting [email protected].
Photo: Jon Kelly and Steve Hunt, in the memorial garden, one of the sites on the tour.